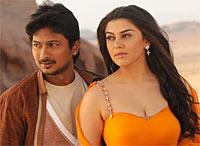 There's very little to Tamil film Oru Kal, Oru Kannaadi , writes Pavithra Srinivasan.
After the runaway success of
Siva Manasula Shakthi
and
Boss (E) Baskaran
, director M Rajesh's latest,
Oru Kal, Oru Kannaadi 
(A Stone, A Mirror) is true to his particular style of filming that you could substitute the actors and screenplay and get nothing new from the result.
Oru Kal, Oru Kannaadi
(the title is taken from one of the songs in the movie SMS), produced by Red Giant Movies makes it very clear that the cast and crew had just one thing on their minds: wholesale entertainment, preferably with no brains involved.
The Story: Boy from a supposedly middle-class family, who almost never works, scouts for suitable girls to marry. He mocks "ordinary-looking" girls in public and reviles them. Finally he chooses a rich, very fair-complexioned girl and expects her to return his affections for no reason other than the fact that he's male and she's female. No matter how much he loafs around, she has to love him. That's pretty much it, as far as
OKOK
is concerned.
The Guy: Saravanan (Udhayanidhi Stalin) works in Sathyam Cinemas as an usher. But aside from a couple of random shots of him sitting around and chatting in the theatre, he's never seen to be working.
He does, however, ride around all over Chennai on a snazzy bike, dresses well, and is always in the company of his friend Partha, until he falls in love with the perfect girl, Meera. Post this, of course, his job is to tell her that he likes her only because she's beautiful (like Chinna Thambi's Khushboo, as he tells her) and find unbelievable reasons for why she should love him.
Even the gods help Saravanan when she repeatedly rejects him: all her other suitors are even worse than he is! Which makes an excellent point for why she should love him, eventually.
Udhayanidhi, who makes his debut as an actor, aside from his producer avatar, has tried valiantly to play the role but his dances and dialogue delivery look painstaking. On the other hand, his isn't a role that requires any finesse, so this doesn't matter.
The Girl: Meera (Hansika Motwani) is the daughter of the deputy commissioner of police in Chennai (Shayaji Shinde). She is quite rich, has a complexion that rivals milk, flips her hair around, and wears tight dresses which automatically makes her desirable.
She's training to be an air-stewardess (the director's fascination with this profession continues) and eventually begins to work for Kingfisher, where she's followed by the guy Saravan and his cohort friend Partha, harassed mercilessly  in public, until she confesses her true feelings (in private).
Throughout, despite being depicted as a vapid, spoilt brat whom the "hero" tames, you only feel pity for this well-to-do
girl who's forced into a relationship she doesn't really seem to want or need.
Hansika Motwani looks and is her usual, bubbly helium-enriched self, who mostly has nothing to do but look pretty and puzzled. That's what her role requires of her and she fulfills it perfectly.
The Hero: Partha (Santhanam), the faithful sidekick of the guy who willingly wisecracks, saves Saravanan from sticky situations, plays second fiddle. He loves and loses his own girl and in Saravanan's own words, does pretty much what's asked of him, all for the sake of his friendship.
Partha has a ready collection of gags and one-liners that rescue the screenplay, story, guy and girl when everything threatens to go off the rails. He packs in a lot of verbal punches, emotes and expresses everything in wildly exaggerated yet genuinely heart-warming fashion.
You stick to watching the lovers' travails not because you're invested in them, but because of Partha's unique take and punchy dialogues. In fact, Saravanan and Partha spend more time in each other's company and are so finely in tune with each other's feelings that you question the need for Meera at all.
By rights, Santhanam's name, which appears third after Udhayanidhi and Hansika, should have come first. He's the only reason you can even sit through most scenes. The man has almost single-handedly ensured that OKOK is watchable, even though some gags aren't quite as funny as they used to be. His expressions, dialogues, and even dance save the day.
Harris Jeyaraj, the credits say, composed the music. Aside from Venaam Machan (which, though foot-tapping, is a rehash of Vaaranam Aayiram's Anjalai), there's nothing even remotely interesting about the music.
Vivek Harshan's editing could have been better, while Balasubramaniem's cinematography is slick as usual.
OKOK is a slightly torturous friendship story of two guys and that's pretty much it. There's a girl here, somewhere, but she doesn't count. The only one who matters is Santhanam, and his hilarious one-liners bag all your attention.
Rediff Rating: