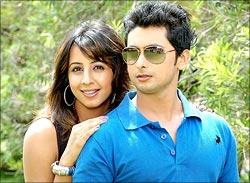 Srikanth Srinivasa says Ondu Kshanadalli has some lacklustre performances and poor scripting.
Kannada film
Ondu Kshanadalli
is an example of how a story with the potential to be interesting, is instead unexciting and colourless.
Director Dinesh Baboo, who has given Kannada cinema some classic hits—
Suprabhata, Amruthavarshini
and
Laali—
does not seem to have bothered much with the script or the casting and narration.
Although the title suggests that the story happens on the spur of the moment, the clock takes its own time to tick in this film. It seems like Dinesh Baboo has scripted the film hurriedly and has no inkling how to promote it as a love story.
Shyam (Tarun Chandra) comes home after his studies and is forced to accept Shilpa (Sanjana) as his bride by his parents. Although the girl is happy with the match, Shyam feels he wants some more time and is also not comfortable with her. Shyam wants his marriage cancelled.
That is when Divya (Bhamaa),
a village girl enters the scene. To show he is in love with someone else, and so get rid of Shilpa, Shyam hugs Divya in a temple before her parents.
Divya, who is engaged to another suitor is shocked but does not react to Shyam. Shilpa leaves in a huff. The film then winds it's way to the inevitable ending.
Tarun Chandra has turned in a mediocre performance. Sharan and Umesh, though, more than make up for it.
Sanjana has improved tremendously but it is Bhamaa who has excelled. Her role could have been extended and more could have been demanded of her in terms of portraying more realistic emotions.
Sangeetha, as the mother of Shyam, has done well and so has Jaijagadish as the father.
Giridhar Divan has scored good melodious music. Suresh Byrasandra's camerawork is adequate.
Ondu Kshanadalli
is a somewhat slow and tedious film with some very insipid narration.
Rediff Rating: