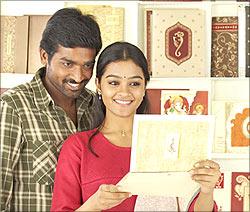 Pavithra Srinivasan feels Tamil film Naduvula Konjam Pakkatha Kaanom is worth a watch.

Amongst star-vehicles and glitzy commercial entertainers comes a neat little film that doesn't set out to prove anything, yet gains pride of place.

The film is Leo Vision's Naduvula Konjam Pakkatha Kaanom (Some Pages Missing In Between).

The plot is simplicity itself but it's the way it has been written, showing character development and smart dialogues, that makes it so watchable. Best of all is the unassuming yet perfect star-cast.

It starts out as seemingly just another run-of-the-mill friendship story. Four friends, Buks (Bagavathy Perumal), Balaki aka Bajji (Rajkumar), Saras (Vigneshwaran) and Prem (Vijay Sethupathi) congregate in a room, clearly enjoying an afternoon off.
It soon becomes evident that not all is well.

Prem is about to get married to his beloved Dhanalakshmi (Gayathri), and it's likely to cause problems. His friends are all worried in their various ways and soon, to avoid boredom, they decide on a game of neighbourhood cricket.

The game is duly played, with plenty of funny moments and such genuine camaraderie that you laugh out loud at many moments. And then there's a seemingly innocent occurrence -- Prem slips, falls, and hits his head.

From this moment on everything begins to unravel for the friends. Prem loses his memory, and can't remember a single thing that happened in the recent past including his lover and his impending marriage.

His
friends are driven to desperation as they realise what a difficult task they have on hand. More important: how do they go ahead with the wedding?
NKPK's comedy succeeds because the humour is so perfectly interspersed with the characters, their reactions and dialogues, that you never feel that this is a movie.
The camera, wielded by C Premkumar is unobtrusive, capturing characters, their lives, and even day and night in the city perfectly.
The cast is un-self-conscious, whether they're playing a cricket match or trying to drag their friend through a wedding. A huge plus is that the masala elements don't hamper the pace either.
The few minuses of the movie are mostly in the second half. The first half moves at a brisk pace, while the second flags a little. The realism goes for a toss in some places but it is all salvaged by the climax that reveals a very real depth of friendship that's touching.
Ved Shankar's background score works well, too.
This seems a great year for Vijay Sethupathy and he proves how well he suits a movie like this with his natural reactions and dialogue delivery.
Bagavathy, Rajkumar, and Vigneshwaran steal the show at appropriate moments, and so do the numerous secondary characters that populate the movie.
The hero of the film, however, is the director Balaji Tharaneetharan who brings us a novel idea in a light-hearted setting, engages our attention with smart dialogues, and pulls off the caper with neat plot twists. Worth a watch. 
Rediff Rating: