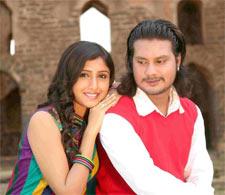 Srikanth Srinivasa says Nenapinangala has an interesting narrative and some good performances by Supreetha and Ramesh Bhat.
Debutant director Dhanuchandra has chosen a love story that is based on a real life incident that happened in Doddaballapura (near Bangalore) in 2008, for his film Nenapinangala.
The theme is a time-tested one: the clash between two lovere and their families. But the film has an interesting narrative devoid of the clichés of films that carry a 'message'.
Surya (Hemanth) and Pallavi (Supreetha) fall in love. They run away and get married in a temple because Pallavi fears her parents will marry her off to another suitor.
The lovers stay at a friend's place but when Pallavi calls home and finds that her father is trying to commit suicide, she asks Surya to take her back home.
Surya feels betrayed. Pallavi is actually faced with a dilemma: caught between her family and her love.
Director Dhanuchandra manages to make a decent family entertainer. The narrative has a realistic feel that keeps audiences hooked. The emotions that are in play win over the clichéd good versus bad themes that are commonly shown in films.
Newcomer Hemanth delivers his dialogues quite effectively though he has a long way to go in emoting.
Supreetha is impressive. She has lived her role effectively. She has shown that she is still around especially after she didn't get the kind of response one would have expected as the female lead opposite Yogish in Ambaari. Ramesh Bhat is good as the hapless father. Karibasavaiah is adequate as the father of the boy.
C R Bobby's music is catchy with a couple of songs already making it to the charts despite the unimpressive billing that the film has got.
The comedy scenes are wasted. The film could have been easily trimmed by at least 20 to 30 minutes, including the climax.
Nenapinangala is a reasonably good movie given that a bunch of newcomers are involved in its making. It has some excellent performances by Supreetha and Ramesh Bhat.
Rediff Rating: