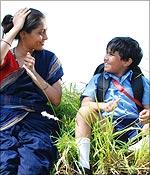 Pavithra Srinivasan reviews the Tamil movie, Nandhalala. Post YOUR reviews here!


Every once in a while in a world of glitz and glamour of formulaic films, comes along a film that dares to traverse not just a different path, but portrays characters that you come across every day -- with just the right dash of heart, reason and dare you say it, even the comic aspects of daily life.
It's this, perhaps, that's the saving grace of what might have otherwise been a rather dreary movie. And Ayngaran International's
Nandhalala,
director Mysskin's brainchild, manages to skate along the right side of artiness and come out victorious. It might be loosely based on Takeshi Kitano's
Kikujiro
, but it has its fine points just the same.
Even the beginning credits manage to be different, with maestro Ilaiyaraja's name the first to crop up on screen. Mysskin mentioned once that the music was the third character of the film, and here Ilaiyaraja's genius makes itself known in every frame cresting highs and lows with finesses, right from the gently waving fronds through the credits. You realise just how important that support is, as you're introduced to the protagonists.
Thus, you have Akhilesh (Ashwath Ram) a young boy who lives with his grandmother, "looked after" by a maid who wanders her own sweet way once she gets her supply of money from him, not really caring about what he eats, when he sleeps or even if he does attend school. Yearning for his mother, Akhilesh walks to school one day, and then gives the slip: he'd go to Annaivayal, searching for his mother, who's working there.
Right on the other end of the spectrum is Masilamani (Mysskin, whose name doesn't appear as an actor in the beginning credits) a mentally challenged person, shut up in an asylum, cherishing deep anger for a mother who dumped him there.
Always on the lookout for an opportunity to run away, he grasps it when it presents itself clutching his coin-bag and begins a journey to Thaivaasal in search of his mother. Akhilesh and Masilamani soon end up as unlikely travel-mates, not really understanding each other, but willing to put up with anything to get to their destinations.
And then they experience the best of road trips, meeting new people and learning things about them and each other. We are introduced to the physically handicapped guide who breaks down; the lorry-driver whose horn Masilamani has an obsession with; the commercial sex worker they run into (Snigdha) and the bizarrely interesting motor-cycle duo -- not to mention the carload of roadside Romeos.
Amidst all this is woven the tale of how they each build up their own visions of their mothers, imagining their encounters. In Akhilesh's case, it's with eager anticipation while in Masilamani's case, anger and fury enough to murder her.
The bond they gradually come to share is a thing of delight and accomplishes what many sentimental tear-jerkers fail to do: genuinely tug at your heartstrings.
It might not seem like Mysskin's an ideal candidate for what looks like a complex portrayal right in his first outing. He tends to overact at times though he does downplay at others, creating more or less a balance. It helps both him and Aswath Ram that dialogues take a backseat here; it's the situations themselves, and the clever juxtaposition of the characters that takes centre stage. Snigdha is near-perfect in her role, but the same might be said of practically every character that wanders onto screen, especially Rohini.
If Ilayaraja's music is almost a character excelling in background music, and songs such as Mella oorndhu, then Mahesh Muthusamy's camera has performed an equally similar feat, moving in and zooming out on characters and giving you a sense of participation, letting you guess your way through the film.
It takes a great deal of gumption to avoid commercial overtones, inject the right dose of humour, angst and poignancy, enough to draw you right into the film, but Nandhalala definitely accomplishes that.
While the second half tends to lose focus slightly, you're invested enough in the characters to not really care.
Nandhalala might not appeal to the fast-paced action fan, but this is a movie that thrives on a slow pace and must be viewed with that in mind. Its delight lies in the fine nuances, and dissection of human nature.
In other words, a brilliant film.
Rediff Rating: