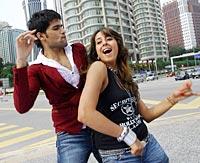 Radhika Rajamani feels Mugguru loses the plot and our interest. Post YOUR reveiws here!
Comedies have to be really entertaining from the word go if they are to captivate audiences. Mugguru, directed by V N Aditya, starts off fairly well and is quite well paced. But after the interval it becomes monotonous and loses its liveliness.

Coming from Suresh Productions and Rama Naidu, Mugguru's got the commercial staples, foreign location (Malaysia), many songs, comedians Ali, Brahmanandam, and Venu Madhav, and a bit of action towards the climax. The production values are just about okay in this routine formula film which has a story as old as mothballs.

Mugguru is the story of three friends Pawan (Navdeep), Maruthi (Rahul) and Anji (Srinivas Avasarala) who have barely passed middle school and are not good for anything. They are trying to live in Visakhapatnam and wondering how to get jobs and make a quick buck. They are ready to kidnap businessman JP (Ahuti Prasad), when he suffers a heart attack and Pawan becomes a good samaritan and admits him in hospital. In return, JP offers him a job in his company in Malaysia. Pawan wants a job for his friends Maruthi and Anji, too, and JP agrees. In fact, JP is bowled over by the boys and even agrees to their marrying his three daughters Shalini (Shraddha Das), Yamini (Sanjana) and Mohini (Sowmya).

The scene then shifts to Malaysia where the youngsters arrive and are under the care of Bade Miyan (Ali). They slowly befriend the girls and fall in love. Bade Miyan comes to know of their real motives and tells JP (who's in India) but JP trusts the boys. Everything seems to be going smoothly when Balatripurasundari (Reema Sen) walks into their lives…

Aditya's screenplay gives equal footage to all the three heroes. He has ensured quite a taut and fun-filled first half, but the plot goes astray in the second half and meanders towards a drab ending.

Navdeep, Rahul and Srinivas Avasarala pitch in with lively performances. The bonding on screen is visible and their sense of timing is pretty good.

The girls, Shraddha, Sanjana and Sowmya, have less time on screen than the boys and their sexiness is adequately on display through the songs.
Reema Sen looks rather jaded in the cameo she does, which includes a song. Brahmanandam seems to be flooded with ''don'' roles of late and he and Ali induce the laughter.

Mugguru is one of those films which you can see if you have nothing else to do or no other film to watch.

Rediff Rating: