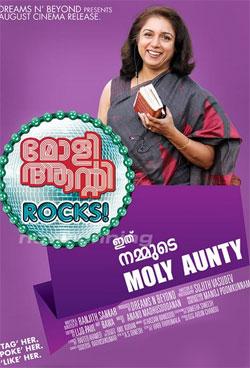 Paresh C Palicha says that Molly Aunty Rocks makes for great viewing for Revathy and Prithviraj.
When you have got the experience of living in a different land and culture from your own, you are bound to assimilate the positive aspects of that culture and that exposure gives you the confidence to do things differently and be more positive in your approach in life.
This seems to be the crux of
Molly Aunty Rocks
, Ranjit Sankar's new film with Revathy in the lead.
It tells the story of a middle-aged woman who has lived in the USA for 20 years, but comes back to India to save her job in a bank in a village and seek voluntary retirement.
Molly (Revathy) has brought with her the work ethic of the USA. She follows the law and is not bureaucratic in her approach towards her work. She will do a bit extra to help a customer.
She was raised with leftist ideals and married an orthodox Christian and migrated with him to America, and now they have two daughters studying in college.
She is not a conventional parent. Her only advice to her children is: have your flings and relationships but keep a precious little for your formal life partners.
Molly shares a love-hate relationship with her in-laws because she and her husband intend to sell their share of the ancestral property before she returns to America.
Her mother-in-law's (KPAC Lalitha) wish is to drink a cup of tea made by Molly before she goes to her grave. Molly, one deduces, does not know how to cook traditional food.
Every scene tends to add another stroke to the character portrait of Molly. She is the focal point of the film. There is no conventional progression
in the story; there are nuggets of information added here and there adding meat to Molly's character.
Things take a turn for the worse when Molly gets a notice from the income tax department to pay up Rs 30,000. She does not take the help of an auditor but tackles the issue herself. Expectedly, she is asked for a bribe to resolve the matter, and equally expectedly she does not take this lying down and lodges a police complaint.
This snowballs into a big issue and now the claim is raised to millions of rupees, yet she refuses to budge.
She has to deal with a young and haughty officer, Pranav Roy (Prithviraj), who enjoys harassing her to the hilt, stripping her of her self esteem and hurting her ego whenever possible.
Watch the film to find out how the issue is resolved and how the characters are transformed.
Hats off to writer-director Ranjit Sankar who has made a superhero out of Revathy. She hogs the limelight here in a way she has not done in the prime of her career.
Revathy plays the part with dignity and grace. She remains likeable throughout because of the control she keeps and the special effort that the director has made to keep her a genuine person and not make her an oddity.
Prithviraj as Molly Aunty's nemesis plays the part with a casual sophistication that works well.
Another trump card as far as performances go, is Mammookoya who appears in a cameo towards the end as Advocate Salim Menchery. He is best remembered for his cameo as Gafoor in
Nadodikkatu
(1987), but his role as Salim Menchery may well eclipse that.
Director Ranjit Sankar and Revathy make
Molly Aunty
rock.
Rediff Rating: