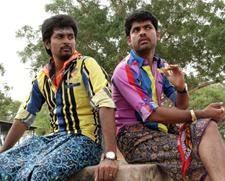 S Saraswathi says Kedi Billa Killadi Ranga is a light-hearted romantic comedy with all the elements of a commercial entertainer.
National Award winning director of Pasanga fame, Pandiraj's latest offering, Kedi Billa Killadi Ranga, is a light-hearted romantic comedy with all the elements of a commercial entertainer.
The movie is co-produced by Pandiraj under the banner of Pasanga Productions, along with P Madan of Escape Artist Motion Pictures. The film is being distributed by K E Gnanavel Raja's Studio Green.
Kedi Billa Killadi Ranga features Vimal and Siva Karthikeyan in lead roles, along with Regina Cassandra, Bindhu Madhavi and Parota Suri.
Vimal and Siva Karthikeyan have worked with Pandiraj in his earlier films; Vimal played the lead role in Pasanga, while Siva Karthikeyan was a part of Marina.
While both Pasanga and Marina revolved around the lives of young children, Kedi Billa Killadi Ranga highlights the importance of family and the role of parents.
The story is set against the backdrop of a railway station in a small town near Trichy. Kesavan (Vimal) and Pattai Murugan (Siva Karthikeyan) are childhood buddies, who come from a middle-class background. Though they are unemployed, they are not worried about their future and enjoy fooling around. They drink a lot and hang around with a bunch of friends at the local railway station, talking about their day.
Kesavan and Murugan work for a local politician, shouting slogans and arranging meetings for him in return for some booze and money. Their dream job is to stand for election and become the local councillor, which they believe requires no qualification or investment, but makes a lot of money.
In spite of the many abuses showered on them by their family and friends, they remain indifferent and continue to drink and have fun.
So how long do they continue on their merry way? Do they change, is what the story is all about.
Regina Cassandra as Paappa and Bindhu Madhavi as Mithra Meenalochani play small town working girls. Mithra is a receptionist at a hospital and is paired with Kesavan, while Paappa assists her father in a small Xerox- cum-PCO shop and plays the love interest of Murugan. Looking simple yet cute with understated make-up and ordinary salwar-kameez, Regina and Bindhu have given good performances.
Actor Vimal is very much in his element; both the village set up and the comedy are his strong points and he has not let down his fans.
As a stand-up comedian and TV anchor, Siva Karthikeyan was very popular on the small screen before he moved to the world of cinema with the critically acclaimed Marina. In Kedi Billa Killadi Ranga, he manages to outshine Vimal with his great comic sense and casual yet sarcastic dialogue delivery. Also his habit of spontaneously bursting into old film songs in many scenes is quite entertaining.
Parotta Suri, as their drinking buddy, has given a great performance as usual. He plays a house husband who is financially dependent on his wife and father-in-law and effortlessly manages to keep the audience laughing throughout.
There are lots of other characters in the film. The parents of both Murugan and Kesavan have important roles and they perform admirably.
Yuvan Shankar Raja has scored the music for Kedi Billa Killadi Ranga. Like the movie, the music is also lively and entertaining. Two songs deserve special mention. Oru Porambokku, a song patronising alcohol, sung by young superstar Silambarasan and Yuvan Shankar Raja has become a chartbuster overnight. Also a soft melody Dheivangal Ellaa, a song dedicated to fathers, by Vijay Yesudas has beautiful lyrics by Yugabharathi.
Though the film deals with a sensitive subject, director Pandiraj injects a good dose of humour and makes it more enjoyable.
Rediff Rating: