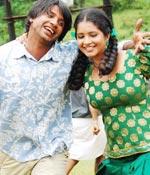 Shruti Indira Lakshminarayana reviews the Kannada film,
Kanteerava.
Post YOUR reviews here!
The
maramari
of a hundred wrong people is justified as long as one right man is benefitted by it. That's the 'message' that the Tushar Ranganath directorial
Kanteerava
has for Kannadigas this weekend.
In his first release of the year, Vijay does not move much from his comfort zone -- action films. This time the action happens amidst a family drama. Kanti aka Kanteerava (Vijay) is less of a servant and more a son to his village landlord. The macho Kanti is the household's instant remedy to problems. It is no surprise then that the landlord's granddaughter Kasturi (Rishika) falls madly in love with Kanti. The landlord wants to adopt Kanti before getting him married to his granddaughter.
But it is at this point that the story of Simhamalia falls open. Who is this Simhamalai? Why Indu (Shuba Punja), a mentally challenged girl means the world to him? And what is the connection between Kanti and Simhamalai? We'll leave you to find out the answers but that's only if you haven't watched
Simhadri
and put two and two together already!
The film sees Kanti as the destroyer of evil and in the process gives him scope not just to pack punches but also break glass, stop speeding golf balls in the air and summersault his way to the den of the baddies and kick them around like football! Vijay fans have enough to cheer.
There are some twists and turns in the film that will give you something to look forward to but that's again assuming that you haven't seen the original. There are a few punch dialogues. However, given that the film wishes to cash in on the Kannada language and land sentiment, dialogues could have been more power packed.
Comedy is also not something that the film can boast of, that's of course until Sadhu Kokhila enters the screen. He along with Mandya Ramesh and Vijay does manage to provide some relief from the constant villain bashing.
Vijay has complete scope for muscle flexing. He, however has capacity to go beyond kicks and punches and this is hoping his future releases present him the opportunity. We also catch a glimpse of the dancer in him.
Shuba Punja is an actor with great potential and she would have pulled off the role of a mentally challenged girl with greater sensitivity if only the role was stronger.
Rishika Singh debuts in the film and goes through the routine of skin show that most first timers are subjected to. Among the baddies, Rahul Dev is the only one who looks worthy enough to be fought.   
Music by Chakri is okay though a song on female deities backed by folk music stands out. 
'Fight' your way through crime is what Kanteerava says. Yes, action is what dominates the film.
Rediff Rating: