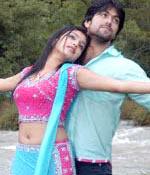 Sumana Kiththoor's second Kannada directorial venture Kallara Santhe has been written by award-winning film writer and journalist Agni Sridhar. Since Sridhar's first film Aa Dinagalu had won acclaim for its script and dialogues and he had repeated his magic to an extent in his second film Slum Bala, much was expected from Kallara Santhe. 
But Kallara Santhe turns out to be a socio-political satire with some believable and unbelievable moments. The film focuses on recent political events, which have created a heartburn among the politically-conscious people and which have provided regular fodder to the media.
The plot revolves around a suicide attempt by a young revolutionery auto driver-turned-thief, which shakes the entire polical administration of the state. This may sound a little incredulous in the state where the political administration, headed by different political outfits, have shown insensitivity to over 300 farmer suicides in the state.
But then the young person starts telling his story, which reveals how an insensitive and selfish system has created problems for him in every respect.
Sridhar's penchant for making politicians the root cause of today's evils is debatable but he has stuck to this point in all his films so far. He has written powerful dialogues in this film but the script has a lot of loop holes, which lowers the impact.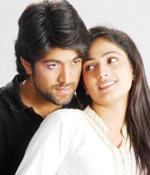 The story revolves around Somu, a post graduate who does not get a decent job because he is unable to give bribes or speak in good English for multinational companies. He wants to be self-employed and becomes an auto driver. But he is booked by the police on false charges and is fired from his job. 
He meets Roopa and saves her from a suicide attempt. Roopa gets a loan and opens a hotel. But the local MLA has an eye on the property where the hotel is leased. Somu becomes a thief, and gets hounded by police. Later, he wants to commit suicide and shakes the entire media and the political establishment. He wants his demands to be met by the Chief Minister.
Yesh has certainly improved in his performance but it is Hari Priya who takes a big leap forward. The girl is cute and can act well. Rangayana Raghu has acted in such roles in umpteen number of films. Kishor is good in a small role. 
Technically, the film does not rise to the standards seen in present day Kannada films. Even the music is average. 
Sumana Kiththoor could have handled this sensitive subject with care but he has failed in effectively projecting the characterisations of the major artists. The inconsistency becomes apparent even in the hero's characterisation -- he behaves like a hard revolutionery at times and then surrenders meekly to his lover. 
The first half is packed with songs and entertainment but still evokes quite a few yawns.
Kallara Sante does not have much entertaining but it is still a watchable film for politically-conscious movie fans.
Rediff Rating: