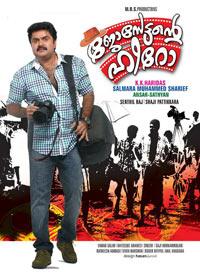 Paresh C Palicha feels that Malayalam film Josettante Hero is not worth spending time on.
Some titles give the story of a film away. It is the same with
Josettante Hero
directed by K. K. Haridas with Anoop Menon and Kriti Kapoor.
From the word go, you are aware what is in the offing. Agreed  it is a small film and we should support such efforts. But, such efforts only win if there is originality or even sincerity in the effort. What we get here is a bad copy of Udayananu thaaram. The story by Ansar Kalabavan and scripted by him and Sathyan kolangad just replicates the Saroj kumar phenomenon of
Udayananu Thaaram
.
The storyline is wafer-thin. Jose (Vijayaragavan), a producer has hit bad times after six of his films flopped at the box office. He is trying to make a comeback with the support of Haritha (Kriti Kapoor), who was launched by him and has now become a pan-India star.
She encourages him by giving him priority dates and putting on hold every other project she is working on.
On the other hand we have Ravi Prakash (Ashokan), who was also given a break by Jose along with Haritha and has now become a Saroj kumar of sorts. He also promises wholehearted support to Jose but works against him by creating roadblocks at every opportunity: first by not appearing for the photo shoot
at the assigned time and then by raising other hurdles.
That is when Haritha recommends the name of Sajan (Anoop Menon), who is working as a still photographer in film units. He had also begun his career with Haritha and Ravi Prakash.
The story moves ahead with boring predictability as Ravi Prakash continues to play dirty games and Jose and the team overcoming every challenge posed against them.
At the expense of being repetitive we can say that from the beginning itself, we can see how the film will unfold and where it will end. Not only that, the characterisation of Ravi Prakash who is lampooning the superstars is exactly like Srineevasan did as Saroj kumar in
Udayananu Thaaram
.
The only novelty in this venture is that Anoop Menon uses a sing-song Thrissur dialect. But after a while it becomes jarring as it halts the natural flow of the story. Further more, Anoop Menon's presence in this film surprises us because he did similar film which got released just a few months back Mullassery Madhavankutty Nemom PO.
On the one side he shows promise as an artist with intellectual calibre by doing films like
Beautiful 
and on the other hand, he appears in trashy ventures like this.
Finally, there is little to say about this film other than it does not seem to be deserving of your time.
Rediff Rating: