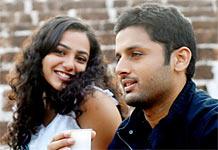 Radhika Rajamani says dont expect too much from Ishq.
In
Ishq,
director Vikram K Kumar treads the oft-beaten and safe path of depicting a love story and casts Nithiin and Nithya Menen, an unusual pair, in the lead.
The film has a bit of everything – love, action, family drama. The love story is predictable even though attempts have been made to give it a new treatment in some scenes. What stands out is the excellent cinematography of P C Sreeram, which elevates the film considerably.
The trajectory of the love story is the familiar boy-meets-girl, conflict between the two, and then resolution of the conflict. Rahul (Nithiin) runs into Priya (Nithya Menen) at the airport. Their Hyderabad-bound flight is diverted to Goa giving them enough time to fall in love.
But there's a hitch. She happens to be the sister of Shiva (Ajay) who used to threaten Divya (Sindhu Tolani), Rahul's sister, in college. In fact, Ajay was beaten up by Rahul. When the two meet again, the old simmering rivalry assumes larger proportions.
Some of the romantic scenes between Rahul and Priya are fun to watch, especially the scenes in Goa.  
However, there are clichés too: the hero saving his girls in the nick of time, before they are to be raped on the beach, a sister submissively doing what her brother says etc.
Priya's character could have been delineated better; she comes through as very contradictory–
a modern girl who yet always gives in to her brother.
The film ends up being the usual vendetta drama after taking some entirely predictable twists and turns along the way.
Nithiin seems to have improved in this film. His song,
Lachchamma Di,
which has been rocking the charts, rocks the screen too.
Nithya is a natural performer with loads of talent which the script did not allow her to show. But as Priya, she was still one of the few high points of the film, looking fresh, spontaneous and realistic.
Ajay does a good job as the brother. Rohini's performance has been a bit over the top in her recent films, perhaps because that is what has been required of her.  
P C Sreeram has shown how cinematography can be such an integral and vital element of a film. His camera captures myriad moods and landscapes in such beautiful and picturesque frames that one's eyes keep lingering on the screen. He makes all the locations in the film -- Goa, Kerala, Kulu Manali – look stunning.
Sreekar Prasad does a fair job with the editing though he could have trimmed the running time of the film by a few minutes. The music by Anoop Reubens and Aravind Shankar sounds satisfactory on screen.
Ishq
is a family entertainer, but go without expecting too much from it.
Rediff
Rating: