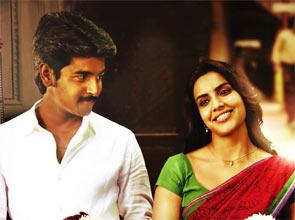 S Saraswathi says Ethir Neechal is a simple city-based romantic comedy that is guaranteed to provide some wholesome family entertainment.


Actor-turned-singer, Dhanush turns producer with the much-anticipated, Ethir Neechal, a film produced under the banner of his new production house, Wunderbar Films. The film is directed by debutant director R S Durai Senthilkumar, a former associate of director Vetrimaaran.


Ethir Neechal is distributed by Vendhar Movies and has been cleared by the Censor Board with a 'U' certificate. The music is by young sensation Anirudh Ravichander, cinematography by Velraj and the editing is handled by Kishore T E.


Sivakarthikeyan, Priya Anand and Nandita play the lead roles in the film supported by Sathish, Jayaprakash, Ravi Prakash, Vaali, and Suza Kumar. Dhanush, Nayanthara and music director Anirudh make a special appearance in the film.


Ethir Neechal is a city-based romantic comedy that is about a young man, Kunjithapatham (Sivakarthikeyan), who is embarrassed by his name. He is named after a family deity, Kunjithapatham Samy, after his mother developed some complications during his birth. More than the actual name, he is shamed by its shortened version that makes him an object of ridicule among his schoolmates, friends and neighbours.


Fed up of being teased constantly, Kunjithapatham wants to change his name, but is afraid of incurring the wrath of God, who he believes will strike his mother.


Years fly by and his mother passes away. Though much older now, he continues to be the butt of everyone's jokes. Since his mother is no more, he decides to go ahead and get his name changed to 'Harish', on the suggestion of a numerology specialist.


The very day he registers his new name, he meets Geetha (Priya Anand), a school teacher. He takes this to be a positive sign and decides to make a clean break from everything connected to his old life. He shifts to a new locality, gets a new job, pursues Geetha, falls in love and for the first time in his life he seems to be completely happy.


But does this happiness last? What does fate have in store for him? And most importantly, who is Valli (Nandita) and why does she come into his life? All this is dealt with in the second half of the movie.


Simple and honest, Ethir Neechal is two hours of clean wholesome fun. No goons chasing anybody, no unnecessary fight scenes, and no violence or bloodshed.


The only drawback in the film is the slow pace in the flashback scenes that tell us the story of Nandita.


And though the title Ethir Neechal (Swimming against the Tide) highlights the message of fighting against all odds to win, it is fun and laughter all the way.
Sivakarthikeyan, who has been giving good performances consistently, is fast emerging as one of the rising stars of Tamil cinema.


He received rave reviews for his performance in Kedi Billa Killadi Ranga. With Ethir Neechal he proves that he is full-fledged hero material.


Both the female characters, Priya Anand and Nandita have given good performances. Another important character in the film is Peter (Sathish), who shares the screen with Sivakarthikeyan in almost every scene. They complement each other's comic timing, much like the Arya-Santhanam combo in Boss Engira Baskaran.


Much before the release of the film, the music of Ethir Neechal became the rage among youngsters, receiving innumerable hits on YouTube.


Music director Anirudh Ravichander of Kolaveri fame has certainly proved his mettle yet again with his exceptional music.


With lyrics penned by Dhanush and vocals by Anirudh, Boomi Enna Suthudhe, seems to have become the most popular choice for ringtones and caller tunes. Not far behind is the inspiring, Ethir Neechal Adi and the melodious, Velicha Poove Va by Mohit Chauhan and Shreya Ghoshal.


What is undoubtedly the highlight of the film is the Dhanush-Nayanthara kuthu dance number that had the audience on their feet, whistling, clapping and screaming for an encore.
The man with the Midas touch, Dhanush, seems to have struck gold once again. Success seems to follow him in everything he does, be it acting, singing or producing.


He seems to have chosen the perfect vehicle to launch his maiden production venture. There is beauty in the simplicity of R S Durai Senthilkumar's script and along with his practical approach, the endearing characters and the sensational music, the film is sure to be a box-office winner. A must-watch.


Rediff Rating: