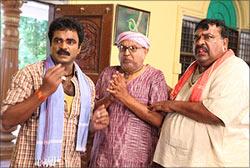 Srikanth Srinivasa says Dakota Picture has a lot of funny moments and is worth a watch.
Director Omprakash Rao who has directed Dakota Picture seems to have departed from his usual action films to direct a comedy.

Dakota Picture is a remake of Priyadarshan's Hindi film Maalamaal Weekly. The Kannada version brings together several veteran comedy and character artistes.
The story unfolds in a remote village where buying lottery tickets is a major entertainment. Lachchanna (Doddanna) is a lottery agent who earns commission if a ticket he has sold wins the lottery.
His prayers are answered when he learns that one of the tickets sold by him wins a prize for Rs 1 crore.
He hatches a plot to get the ticket and present it as his own.
Doddanna is hilarious as the lottery agent and Mukhyamantri Chandru gives him good company.
Rockline Venkatesh, who is the producer of the movie, has acted as the prospective groom to Halappa's daughter Radha (Nikesha Patel). Mandeep Rai and Sundar Raj lend good support. Director Omprakash Rao has acted as the brother of the lady zamindar. Nikesha Patel looks good.
Jagadish Waali's camera work is worth mentioning and is in tune with the narrative. Hamsalekha's background score is praiseworthy
Dakota Picture
is a watchable movie with a lot of funny moments. Only the title is a misnomer and may deter people from seeing this family entertainer.
Just watch it and be entertained!
Rediff Rating: