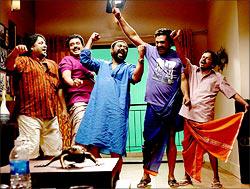 Paresh Palicha says Malayalam film Chettayees is too loud, with a lot of overacting.

Alcohol consumption has reached endemic proportions in Kerala and this is reflected in Malayalam films where at least one character is either perpetually drunk, or there is talk about drinking in almost every shot of the film.

Chettayees, directed by Shajoon Kariyal with scriptwriting by Sachi, follows this trend. The film is about five friends who get together at every opportunity to drink and have a good time in an apartment belonging to one of them.

They are from diverse backgrounds. John (Lal) is a lawyer who is separated from his wife and awaiting a divorce.
Kichu (Biju Menon) is a music composer, who is yet to hit the big time in the film industry.

Roopesh Krishna (Suresh Krishna) is a junior artiste, who gets the role of a punching bag for the hero in films.
Bava (P Sukumar) is a celebrity chef.
Babumon (Sunil Babu) is a government servant.

All of them are preparing to welcome the new year in John's apartment with Bava cooking up exotic dishes and the others stocking up on drinks to last them a couple of days.

From the beginning we have an inkling that something will go terribly wrong very soon.
Kichu complains of chest pain while returning from a recording. He steps into a bar by the roadside and spends some time there. We get to know that his marital life is in trouble and he dictates his will over the phone to John stating that his wife will have no rights over his belongings after his death.

There is one more problem brewing in the wings as the residents' association wants to throw the friends out of the building and is monitoring their actions on CC TV 24/7 to catch them in some immoral or unlawful activity.

The film is too loud and there is too much overacting, especially Lal and Biju Menon, who have to exaggerate their physical movements as well as their vocal cords.

They are ably supported by the young actress Miya, who plays Biju Menon's wife. She has to act drunk and hyper in the second half. She is jealous of her husband's friendship with John and even suspects they are having a homosexual affair, which makes John throw up (so much for new gen cinema).

In the end, we just sit there wondering what made Biju Menon produce such a film under the banner Thakkali Films.

Rediff Rating: