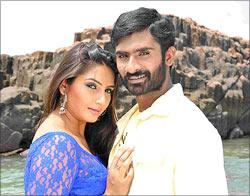 Srikanth Srinivasa says Bangari is a sincere attempt by a debutant director.
Debutant director Ma Chandru has made a sincere effort to make an engaging film that has elements of love, sentiment and comedy.
The film starts with a flashback as Bangari (Yogish), a prisoner walks out of jail to freedom. Unable to bear his father's tantrums, his drunken ways and his wife beating Bangari had killed his father.
Bangari becomes more attached to his mother though he is not serious about anything in his life. He meets Paddu (Ragini Dwivedi) who mistakes him to be a prankster and eventually falls in love with him. It takes a while to reciprocate the same. Paddu's father Soma (Dhandapani) is a social worker who wants to contest elections.
He seeks the help of Bunk Swamy (Sharath Lohitaswa) to get him a ticket. But Swamy takes a ticket for himself but gets killed.
Meanwhile, Paddu's love interest is opposed by her father who has Ranga (Venkatesh Prasad) his brother-in-law to support him. The two lovers decide to get married. Bangari seeks the support of Dharmanna (Ramesh Bhat) whom he considers as a father figure. But, without Bangari's knowledge Dharmanna turns out to be a turncoat.
What does he do? Do the lovers reunite? This forms part of the remaining story.
Ma Chandru has made a sincere effort to engage audience interest in the movie. The first half is quite quick but the second half drags a bit.
Yogish has acted naturally and he seems to be improving with every movie. From a beauty queen on the ramp to playing a village belle Ragini has covered some distance. She looks good and has acquitted herself in her role.
Ramesh Bhat is adequate. Satyapriya as the mother impresses. Dhandapani wreaks havoc in his role and Venkatesh Prasad supports him ably.
Neel's music is pleasant to the ears with Yogi himself crooning for the second time after Kalaaya Tasmai Namaha. Niranjan Babu's camera work is good and songs have been picturised and choreographed well.
Bangari is an average entertainer but quite engaging given the fact that it marks the debut of a director.
Rediff Rating: