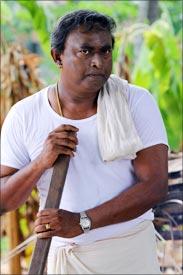 Paresh C Palicha says Ozhimuri proves that Madhupal is a director of substance who can tackle diverse themes with depth.
Director Madhupal's new film
Ozhimuri
, penned by renowned bilingual writer Jeyamohan, dwells on what makes people stay together even when it seems that their relationship has gone sour or turned outright abusive.
The writer has given a valid social context for his rumination on relationships by placing it in Kanyakumari, a place that came under Tamil Nadu when states were linguistically divided on the basis of the language spoken by the majority.
The story shows how this affected people who were co-joined or in a relationship that went beyond the language barrier. The tag line of the film is 'Document of separation'.
Ozhimuri
is the legal instrument that was used to cut people from each other, divide their belongings and basically tear them apart.
The story, however, is not political or social. It is about individuals coming to terms with their own past or getting a new perception about things that have happened in the past.
The aged Meenakshi (Mallika) seeks
ozhimuri
from Thanupillai (Lal) along with all the property that she had transferred to his name a few years back.
Her 27-year-old son Sharath (Asif Ali) is on her side. The family obviously becomes the butt of ridicule in the first hearing, and Bala (Bhavana), one of the lawyers from Thanupillai's side asks Sharath to put some sense into his parent's head.
Initially, he is doubtful about Bala's intentions but slowly he opens up and tells her what his mother has gone through because of Thanupillai.
Yet, as the story goes on to reveal the past, Sharath along with the viewers gets a new perspective on his parents' past
and realises that his father, though having a short fuse, was not entirely a bad man as he had imagined him to be in his mind.
Thanupillai was brought up in a matriarchal family system by the strong-headed Kali Pillai (Shweta Menon). He has seen his wrestler father die uncared for. That made him reject the matriarchal system. He married a woman from another community so that she stayed with him.
The plot may seem complicated, but everything is explained subtly with dialogues not only about love, the man-woman relationship and the complications in them, but even the differences in the eating habits of different communities is mentioned in a light way.
A heavily textured narrative like this needs good performers who register the subtly changing emotional graph of the characters as layer after layer is peeled off to reach the soft vulnerable core inside.
Lal shoulders most of the burden, playing three different characters--the aged, the young, hot-headed man, and the bald wrestler--and he surely will be in contention for a few awards next year.
Shweta Menon gives another stellar performance as a witch of a woman.
Asif Ali, as a soft spoken teacher who is scared that traits in his father's personality that he had detested all his life have started showing up in him, is very good.
Mallika as the silent and subdued wife does a good job. Bhavana as Bala, the talkative lawyer who helps Sharath to see things in the right perspective, and is lover and mother figure at the same time, performs her role with élan. In the end,
Ozhimuri
proves that Madhupal is a director of substance who can tackle diverse themes with depth. This outstanding film will surely be talked about in the coming days.
Rediff Rating: