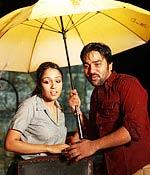 Pavithra Srinivasan reviews the Tamil music album, Va Quarter Cutting.
YNOT Productions and Pushkar-Gayathri have now joined hands under the aegis of Cloud Nine Movies, to bring the zaniest adventure of all -- Va Quarter Cutting, a journey, presumably, that honours a 'Quarter'. With G V Prakash Kumar setting the tunes, here's what the collection sounds like.
After Dialogue 1, a hilarious rant about curd-rice, beeda and other such wants, desires, and how the fulfillment of every one of them is a must, music warbles out gently, almost Japanese-like, before segueing into the classic Unnai Kann Theduthe, after which point it changes into a an almost mournful lament to booze. G V Prakash Kumar takes the vocal reigns himself, to Kumararaja's lyrics, even as Gana Ulaganathan provides ample accompaniment. Score one for the laughter brigade.
Dialogue 2 starts off merrily, as a mother rants about her daughter who simply won't obey any stricture and Andrea Jeremiah picks up Thediyae Thediyae in melodious fashion, tripping through the liberally English-sprinkled lyrics, accompanied by gentle piano beats that remind you of simple nursery rhymes except that this number is much more charming. The distinctly western composition adds lustre to the song, as does Andrea's voice, which suits the number.
Blazing temperatures, oil wells and huge houses -- thus runs Sura, the hero's Dialogue 3, as he muses that he may well end up with a fortune on Saudi lands. Straightaway, it's onto the number Saudi Basha, rendered by G V Prakash Kumar and Bhargavi, which is as Arabic as they come. With liberal doses of peppy rhythm, and more odes to the bottle (courtesy Shiva and R Amarendran), the predominant theme continues where the dialogue left off: namely, beautiful dreams of lording it over Saudi sheikhs and their dancing girls. As a song, it's the lyrics that take precedence here; the tune itself is the standard Arab-music template. No surprises there. Melodious, but you've heard it before.
Kumararaja pens the lyrics once again for both Dialogue 4 and Saarpu Saarpu Ji. Once again, G V Prakash renders the song with Lakshmikanth for company. A faintly interesting instrumental medley follows; then it's back to more potentially hilarious lines. The best part of this song is the sort of crazy quirky instrumental refrain that runs through the whole song. Its catchiness actually saves what might have been an otherwise ordinary number.
The Quarter Song: Clubmix, is what the song's title says -- a rehashed synthesized version of Unnai Kann Theduthe, meant especially for jiving away in clubs to strobe lights. Works best if you're a dance enthusiast.
Humour is undoubtedly the USP of this album, with its dialogues actually gaining more mileage than the songs proper. It looks like G V Prakash has enjoyed working on this project: Thediyae is the pick of the collection, while Unnai Kann Theduthae and Saarpu Saarpu Ji follow a bit behind. At some points, a sense of deja vu arises, but otherwise, it's an interesting collection. Worth a listen.
Rediff Rating: