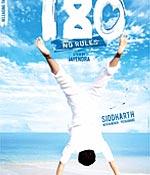 Pavithra Srinivasan reviews the Tamil album, 180.
Post YOUR reviews here!
Ad filmmaker Jayendra's
180
has already been setting film-watchers abuzz. The film is produced by Sathyam Cinemas and Aghal Filmsand has Siddharth, Nithya Menen and Priya Anand in it.
Sharreth has composed the music while Karky and Viveka share writing credits for the album.
Rules Kidaiyadhu
sets your heart thumping with its crashing rhythmic beats, and then Tipu amps the proceedings with the phrase, '
Vuvuzela Oothu'
. Ignore the lyrics -- there's nothing new here and they exist more as a filler. But the rhythm certainly rules.
AJ
begins softly with Ramya S Kapadia almost whispering the words. Vidhu Prathap accompanies her on the piano. The pace quickens and ebbs as and when it pleases. And yes, it's definitely something different when you have Spanish verses interspersed with Tamil lyrics, the rhythm changing with the words, adding to the romance quotient. This one appeals.
Sandhikka Kangalil Inbangal
has a classical full-blown instrumental arrangement that changes track almost every second. Chithra, S Sowmya and Unni Menon share vocal credits among themselves. It does take some getting used to, though.
Ominous instrumental music and an anguished voice kicks off
Nyaayam Thaana
before swiftly returning to unintelligible words, something that resembles popular Arabic love songs. This time around, it's Sharreth who's providing the vocals. The tune does remind very strongly of the yesteryear
Manmadha Leelai. 
A different attempt.
Ramya S Kapadia and Ravishankar render
Radhe Radhe
, a clean, simple number that gives more importance to the vocals than the instrumental array. Short, sweet and to the point.
A gentle humming begins
Nee Korinaal
. Karthik and Swetha Mohan take charge of the vocals and soon, it switches over to
filmi
musical trend, but still, the instrumental arrangement is fascinating. There are strains that remind you of the best of Ilaiyaraja's 1980's music, especially the violin segments. An appealing number.
Siru Siru Kanavugal
begins on a different beat. Vidya Shankar, Master Aswath, P Ajith, and Master Sharath join in chorus to give us a number that has zeal and courage impressed in every word (which are drowned out in the crashing beats, though). This one's the "lets-win" song of the album. In a break from other such songs, it is a lot more somber.
Sharreth seems to be a music composer who doesn't play by the rules; he veers this way and that in his songs, which actually provides spice and makes for an interesting listening experience.
Nee Korinal
and
AJ
make for pleasant listens, while the rest offer something out of the ordinary. Go for it.
Rediff Rating: