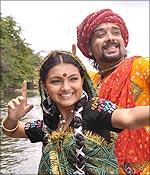 We are at it yet again. Another Malayalam on the abuse of cell phones, laptops etc.  The culprit behind this venture this time is veteran director Viji Tampi, who has named the film Chemistry.
Scripted by Vinu Keriyeth, this film tells the story of three teenage girls who commit suicide in the chemistry lab of their boarding school.
We brace ourselves up for an invigorating suspense thriller going by the first few minutes where Mukesh appears as the police officer investigating the case. But, soon we are jolted by the fact that it is a horror film.
Gouri, Elena and Sindhu are close friends and stars of their school topping in academics as well as extracurricular activities. The inquiry into their combined suicide reveals the fact that these girls had boyfriends who also happened to be their classmates. Revealing pictures of the girls with their boyfriends were found on the cell phones of the girls. The police catch the boys but they plead ignorance.
After the initial inquiry, we see the seats of the three unfortunate girls being taken by three new girls, one of them being the niece of the police officer played by Mukesh, who gets the same room used by Gouri. From here, the film takes on the horror route with the spirit of Gouri haunting Parvathi.
We could forgive the implausibility of the plot if it was intelligently used to convey something that may have been missed if it remained just as conventional story. We know that when teenagers die (for that matter anyone), dreams are nipped in the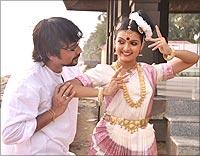 bud. But, there are many more intelligent ways of conveying this instead of relying on the spirit!
The cast seems to have sleepwalked through the film. The seniors like Mukesh, Jagathy Sreekumar, Harisree Asokan and KPAC Lalitha cannot offer much in the name of entertainment. Vineeth's character could have been surprise element of this film. But the way his character is handled is contrived. Our heart goes out for the teenagers and except for Parvathi (Saranya Mohan) and Gouri (Shilpa Bala), no one gets our attention.
On the whole, this lopsided Chemistry may make you lose your mental equilibrium.
Rediff Rating: