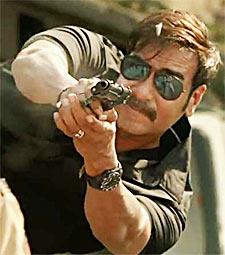 Yo, Rohit Shetty, what's with the volume, bro? asks Raja Sen
It's clear what a director like Shetty -- one with a box-office track-record even more invincible than his superheroic leading men -- is trying to do with each successive film: up the ante. More action, more explosions, more bang for the buck.
For some reason, alas, in his latest, Singham Returns, he seems to have literally amped things up. This is a truly deafening film, made this loud perhaps to knock out the sceptics among the audience. Is this how brains are washed into submission?
Ear-cruelty aside, Singham Returns is a full-blown tribute to the kind of pulpy 90s action film that would star Sunny Deol and have the word Saugandh or Badla in its title. Or, at least, it could have been.
Things start off with Ajay Devgn's cop meting out some firm-but-liberal justice to a bunch of kids, before the plot kicks in, and it is here, during the first half hour of the movie -- with an exaggeratedly "bad man" godman and various shady politicians -- that we are led to believe we're in for some good ol' masala fun.
But, in the sort of scripting downfall that would break Subhash Ghai's heart, the film turns into a mess and leaves the plot behind. Even now, the hackiest of 80s and 90s films rerunning endlessly on movie channels on television remain somewhat watchable simply because they had big meaty storylines.
They might have been bad movies, but there was enough meat in the narrative -- there were real stakes and genuine threats and points of conflict and misunderstanding, and some manner of authentic twists -- to render them at least potent.
The problem with Singham (and, for that matter, any of these uninteresting modern day star-vehicles) is that the hero roams about unchallenged, unopposed, unexciting.
The hero himself ain't bad -- for whatever that's worth. Ajay Devgn wears his scowl like a wrestler would wear a championship belt, proud and unsmiling. He's got a fine, old-school swagger and his ass-kicking looks relatively authentic. But what a bore his character, this Bajirao Singham, is, as he takes on all comers without once looking in danger of defeat.
The primary villain is Amole Gupte, playing a godman with a nearly Gulshan Groveresque subtlety. He's amusing enough -- especially when in his civvies, wearing red shorts and a tee-shirt that says "Dope Chef" while he chills with a beer -- but he soon becomes too much of a caricature, mouthing absurd lines like one where he boasts of having built his career on a pile of corpses. A couple of truisms about superstitious folks and mangoes notwithstanding, he isn't allowed be to be half as menacing -- or as fun -- as he should be.
Technically, these are childishly crafted films. When two characters talk, there is a bewildering use of soft-focus to underline the character speaking, even if both are in the foreground. There are face-offs -- between Devgn and Gupte, for example -- where a third person enters the background of the frame merely so he can get slapped. And when Devgn gets truly angry, there are motion-trails near his fist as he roars and leaps up to strike baddies with his Lady Gaga claw.
Shetty's having a fair bit of fun -- a fact evident in the way the film snickers at Devgn's advancing years, borrows a character and a line from the TV show CID, and objectifies its banian-wearing hero instead of the heroine (just like in the original Singham -- a film I'd called 'Devgn-porn' -- but one wishes he'd saved some for the rest of us. Singham Returns is a ridiculously loud drag.
The action is daft-but-enjoyable in the beginning but soon gets repetitive, no thanks to the audience forced to plug up ears with their fingers.
Shootout after shootout takes place and people get killed but in the end it's all down to Singham getting into Hulk mode and mowing down everyone single-handedly. How terrific it'd be if he just, like The Hulk said in The Avengers, stayed eternally angry? Or is that just our role as critics who have to spend their mornings at these movies?