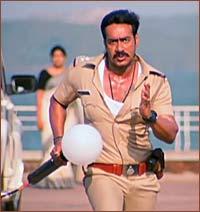 Raja Sen feels Singham is a tiresome film but it will appeal to all Ajay Devgn fans. Post YOUR reviews here!

It's star-porn, really.

Or even Devgnporn, if you will. The hero might not show off his privates in Rohit Shetty's new film, but a testosterone version of him strips off all pride to flaunt every ounce of his celebrity status. So we see shots that originate from Ajay Devgn's crotch and shots that linger blatantly on his khaki-clad bottom; we see him peel off his cop shirt in slow, slow motion, either to assault us with rippling biceps or alarmingly prominent nipples poking through a vest.

Irony, like sharm, has no room in this picture. If Devgn was a woman, this would be one helluva exploitation flick. One can't quite say the same when the actor is one of the producers.

We've seen it all before, and Singham's another time machine set up to take us back into the 1980s, Hindi cinema's most ghastly decade. Devgn's a tough, superheroic small-town policeman with a heart of gold and a near-permanent scowl, and he's come to the big city to take on a villain so vile he chokes children he kidnaps with his bare hands.

This role is unsurprisingly essayed by Prakash Raj, a fine actor now routinely parlaying heavy-duty South cinema credentials into a career of remade baddies up in Bollywood. Someone has to stand still and play target while Devgn does his best Lady Gaga impression, claws and all, as the hero grimaces and the soundtrack roars, right? Right.

A word about the roaring soundtrack, then: background score assaulter and general eardrum-rapist Amar Mohile has found his calling. He used to make Ram Gopal Varma's films trashy by pouring the sound design on so thick our ears bled, but now in cinema that is intentionally and proudly trashy by design, he fits right in and ladles it on merrily, exulting in the lack of subtlety. Earplugs, I earnestly suggest. Two and a half hours of happily hardcore dhishoom-dhishoom will take more out of you than

a Metallica concert.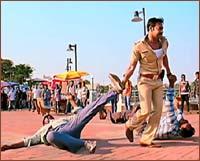 But where does it stand on the Dabangg scale, I'm asked. Yes, there apparently is a new measure for tripe conveniently labelled larger-than-life. It's okay, strictly. Devgn's a solid actor who has worked hard on his body, and while he might not bring a Sunny Deol level of believability to the headsmashing party, there's enough grit on show as he leaps over people, slaps them on the forehead in that clawy action that will be mimicked in schoolyards soon enough, and flogs villains with his policewallah belt -- minutes after stripping off his shirt to declare he doesn't need his vardi to fight crime. (Whichever banian company Devgn's endorsing has it made in the shade, baby.)
Half a decade ago, Devgn starred in a film that showed him walking heroically in slow-motion, unhesitatingly kicking bottom as Sukhwinder Singh sang a title track about him. Omkara was a stunning masterpiece, while Singham's just a sign of an actor flexing his star-muscles till we applaud.
The new film will likely make a lot more money than Vishal Bhardwaj's carefully crafted work of heart, but is that really all that counts? Perhaps it is.
All I can personally say about this trend of remaking one-note Southern hits as a viewer is that it's an exhausting one. It is in the tiny victories that we must seek refuge after a film like this: I'm just glad the hero, so eager to peel off his uniform, left his pants on.
Rediff Rating: