'The movie seeks to strike a long-awaited conversation. A story that the screen should have told long ago.'
'It is an attempt to cure that epidemic of social media opinion and provoke us to leave our rhetorical positions for once and see the issue purely as a great tragedy which happened for more reasons than we give to ourselves,' says Utkarsh Mishra.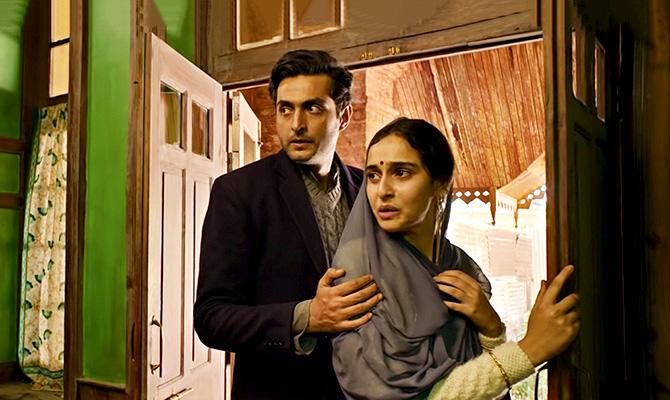 'Sir, he has never seen a Kashmiri Pandit'.
That's the note on which Shikara concludes.
And you're left with the thought, 'Neither have I'.
When the virus of sectarian politics found a gullible vector in social media, it resulted in the outbreak of an epidemic that left all of us infected with some opinion on the issue of Kashmiri Pandits.
But how many of us have actually met one of those who are, as the oft-repeated phrase goes, 'living like refugees in their own country'? Not those who masquerade as persecuted Pandits on social media or TV studios, but those who've actually lived -- or in many cases still living -- that life in refugee camps.
All we have is a perception -- one way or the other.
And this happened because we were never told the story the way it deserved to be told.
Shikara is an attempt in that direction.
The movie seems to be loosely based on Rahul Pandita's book, Our Moon has Blood Clots, which is the spine-chilling story of the exodus of Pandita himself and his family and other Pandits of neighbourhood on that fateful day of January 19, 1990.
Pandita is a co-writer of the movie, so you find a lot of traces of his own story in the movie, including a few real-life names and incidents.
And, of course, all of us know that Director Vidhu Vinod Chopra, himself a Kashmiri who witnessed the exodus, has put in a lot of his experiences too in the film.
The movie tells the tragic story through the life of a lovely couple: Dr Shiv Kumar Dhar and his wife Shanti, played convincingly by debutants Aadil Khan and Sadia. Both are of Kashmiri descent.
Chopra could have cast any star had he wanted, but I think he decided to keep the viewers's focus on the story and doesn't want it to look like too much of a Bollywood film.
It helps you immerse in the story and live the horror and hope that Shiv, Shanti and others are living throughout the movie.
The movie begins in a refugee camp, where the Dhars live with others of their community.
Shiv's means of catharsis are the letters that he writes to none other than the president of the United States. Why? How is the US president responsible for their plight? The movie will tell you. Ans it is not something bizarre but a plain and simple fact.
Shiv wants to tell his story as no one else did, contrary to the expectations they had while leaving their houses.
'So many Pandits have been rendered homeless. Now you see what happens in Delhi. Parliament will be rocked,' Shiv's neighbour had remarked while they were leaving their homes.
It never happened. Why?
Aren't they victim enough?
Has their issue been appropriated by the wrong political side?
Even then, what stopped others from talking about it and finding a solution?
All these questions will stare at you more than they do to Shiv and others around him.
As Shiv returns after posting another letter, he is greeted by a rare sight of celebration at the refugee camp. There's a 'good news', the happiness of which takes the Dhars back in time, to their lives in the valley, which they began together with no apprehensions.
But soon the politics, not just in India but in the world, take a turn for the worse and their living at the home they so laboriously built is now difficult.
Though some friends are still friends, but they can only do so much. Others have bigger obligations, though they fulfil what's expected of them as personal friends, they hate the community at large.
And thus begins Shiv and Shanti's life in exile. Death and despair loom large, but hope never leaves the heart.
Over the years, they lose dear ones, extreme miseries give way to insufficient comforts, but Shanti always chides Shiv to 'write something positive and happy'.
Despite all the evidences to the contrary, they never cease hoping that one day they will return. The dream is partly realised, but the price paid is too heavy.
Nevertheless, Shiv continues to do till the end what he knows best: Writing letters.
Though dealing with such a subject and telling the story in the least rhetorical way possible, the movie isn't a documentary.
It involves a lot of Bollywood drama too, especially in the beginning.
Aadil Khan and Sadia have done a great job for debutants, and hopefully they will gradually learn to be a bit more subtle in their acting.
All the Kashmir scenes have been shot in the valley, giving an authenticity to the film it needed. Some of the wide shots of Kashmiri neighbourhoods are breathtaking.
The movie doesn't shy away from giving a message to those also who might be waiting for it to exploit it in favour of their sinister agenda of dividing society on communal lines.
Have they actually done anything about the community they proclaim to care about?
Or is it just an issue to serve their political interest and promote their brand of politics?
And if you are one of those who sees only that Kashmir which is in the 'clutches of a mighty administration and tramples by military boots', it asks you where were those forces then when men with Kalashnikovs roamed freely on the streets, killing at their will, burning down houses of those who belonged to the wrong religion, even gunning down their co-religionists too if they come in the way; when passenger buses carried youngsters across the border as if they are crossing a canal in the neighbourhood; when people living there for centuries were suddenly asked to leave their homes or die?
Maybe one aspect of the situation today can't be seen in the vacuum. And we need a full perspective.
So the movie seeks to strike a long-awaited conversation. A story that the screen should have told long ago. It was much needed.
It is an attempt to cure that epidemic of social media opinion and provoke us to leave our rhetorical positions for once and see the issue purely as a great tragedy which happened for more reasons than we give to ourselves.
I conclude with addressing the questions that have been raised over the 'timing' of the movie. When Kashmir is under longest-ever lockdown, will this story not serve as a justification for what is being done there?
Well, there are two reasons it won't be.
One, it doesn't incite hate against anyone. It also doesn't pin blame on someone -- a government, a community, a prime minister -- for the situation.
On the contrary, it tells us aptly how we can actually discuss this issue without fearing the consequences we might be concerned about.
And two, there could not have been a better timing for a story that tells us what happens when religion becomes the sole criterion to determine who belongs where.
Rediff Rating: