Not one joke lands, not one tear is genuine in Sardar Ka Grandson, feels Sukanya Verma.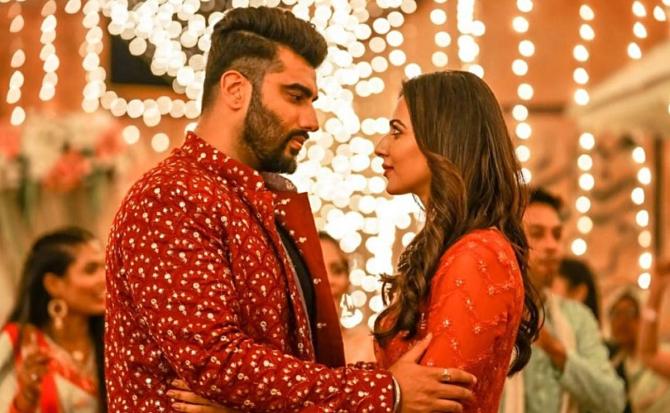 The burden of bureaucracy and the endless delays it causes is an ongoing crisis.
We've seen how it takes weeks of customs clearance for medical equipment to reach hospitals treating critical patients at the height of pandemic.
But Sardar Ka Grandson, a puerile new offering from Bollywood now streaming on Netflix, wants us to believe moving a house from Lahore to Amritsar, like literally, is as simple as shipping a ghee dabba and the ministry of international affairs turns putty in your hands at the prospect of million Twitter followers.
Such is the extent of its stupidity that it is willing to manufacture a diplomatic scenario wherein the Indian and Pakistani premiers are willing to facilitate 'Hindustan ki bahen's last wish of seeing her ancestral home across the border but deny something as practical and fuss free as a visa.
It's a classic open-and-shut, which could easily wind up in five minutes but Director Kaashvie Nair and her Co-Writer Anuja Chauhan want us to know the power of car jacks as well as test our capacity for tolerating fine actors in a blah film.
As if the point cannot be made categorically enough, Arjun Kapoor (indifferent) is a clumsy, callous type running a relocation service with Rakul Preet Singh (stylish) in America. Wait, there's more, it's called Gently Gently.
And because his grandmother Sardar (Neena Gupta), the whisky-glugging Bollywood dadi's khana without achaar sucks values are ingrained in him, he makes it his life's goal to place her Lahore home at her feet.
If you didn't catch it already, they are Punjabi.
Enough 'oyes' are uttered in the first 20 minutes to make that loud and clear even as the joint family duly marks its attendance.
Kanwaljeet Singh, Neena Gupta's straying husband in Saans, a TV series she directed, plays her beta while bestie Soni Razdan pitches in as the fretting bahu.
Gupta has turned many underwritten parts into something of virtue but all the poorly slapped prosthetic in the world do not convince as the nostalgia driven old bat. Nor do the flashbacks featuring a woefully miscast John Abraham and Aditi Rao Hydari (as the young Sardar) caught in a post-Partition ruckus.
Sardar takes a backseat to frown and fume after Grandson goes on a mission ghar wapsi in a Pakistan that is unquestionably Made in Bollywood.
At this juncture, Kumud Mishra pops up as the grudging mayor unwilling to let bygones be bygones after the not-so-nice dadi pulled his beard during an India-Pakistan cricket match many years ago.
This is the level of humour Sardar Ka Grandson peddles casually and makes no amends for her bigotry.
If anything, Mishra's obstacle launching villain goes overboard justifying his stereotype.
Sardar Ka Grandson wants to be a blend of funny and sentimental fuelled by grand gestures like a Patiala House (obviously nicked from Good Bye, Lenin!) and fanciful schemes that look perfectly doable in animated treats like Up.
It wants to sound politically aware by making chaiwallah jokes and up-to-date by acknowledging the might of social media.
But Nair's treatment of these ambitions is so puerile, prolonged and boring (SO BORING), not one joke lands, not one tear is genuine.
Sardar Ka Grandson streams on Netflix.
Rediff Rating: