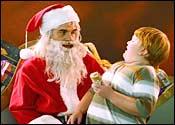 Here is a list of people who will hate Bad Santa, a rollickingly funny and irreverent black comedy: Fans who think there should be only sweet and sentimental films like Love Actually; those who think you cannot play around with Christmas themes and will want to see only films like Elf (which is a good film, but how about having some counter programming fun with this one?). And those who are shocked by profanity and the dark mood in a holiday movie.

But those who occasionally love quirky and uncompromising black comedies will adore Bad Santa.
Bad Santa
is executive produced by Coen brothers, who also suggested its story line. It is directed by Terry Zwigoff, whose
Ghost World
was an arthouse hit over a year ago. An utterly unpredictable romance between a teenage girl (Thora Birch) and a listless 40-ish recluse (Steve Buscemi),
Ghost World
received glowing reviews.
Bad Santa
isn't as assured or streamlined as 
Ghost World
. The ending, for instance, was reportedly changed after adverse reaction from test audiences. This film won't set box-office records, but the low budget laugh fest may become a cult favourite.
The major asset is Billy Bob Thornton, who plays the maniacally hilarious and obnoxious anti-social creature, unwilling to fight his alcoholism.

But there are many other interesting performances, including the late John Ritter's, as the timid manager of a shopping mall, and Brett Kelly as a young nerd who bonds with the foul-mouthed and disgusting character made memorable by Thornton. Ajay Naidu appears in a tiny role, billed as Hindustani Troublemaker.

The film's black and nasty humour springs from well-designed characters. Though swear words are commonplace in Hollywood, they are seldom delivered with such ferocity and energy as in here.

Billy Bob Thornton is Willie, who has spent the year drinking endlessly. Now, at the end of the year, he suddenly joins an equally mean and foul-mouthed dwarf named Marcus (Tony Cox) to play Santa and elf at a store. They have been doing this for years. On Christmas Eve, the obnoxious pair rob the store and its safe. But before that they have to deal with the suspicion of the store manager and his security man (Bernie Mac), who has his own nefarious plans for making himself rich.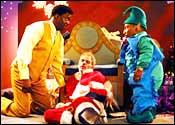 An interesting relationship develops between Willie and a young boy (Brett Kelly) who adopts him as his pal despite Willie's obnoxiousness and potty mouth. He even invites Willie to live with him and his senile grandmother (Cloris Leachman) in a large, old and empty house.
But there is no sudden change of heart here. And the kid who knows what exactly Willie's character is nevertheless accepts him without expecting to change him. By now, you know this is not a typical Hollywood movie kid. And this film was never intended to be a typical feel-good cheerleader.

Like in his first feature film, the director has celebrated anti-social creatures in this film too. But here the list of such characters has grown tremendously and Zwigoff has treated us to yet another weird comedy.

CREDITS:
Cast: Billy Bob Thornton, Tony Cox, Brett Kelly, Lauren Graham, John Ritter, Cloris Leachman, Bernie Mac and Ajay Naidu
Director: Terry Zwigoff
Written by: Glenn Ficarra and John Requa.
Running time: 90 minutes
Rating: R for pervasive language, strong sexual content and some violence.
Distributed by: Dimension Films