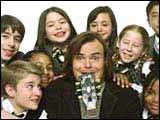 A sweetly subversive film, School Of Rock, could give director Richard Linklater his first mainstream hit. Though the film appears on the surface to be a wild musical comedy assailing the establishment, it also focuses on one crazy man's faith in his young students while showing his unexpected nurturing side.

It is also a film about kids wanting to belong. And it focuses on the gradual and believable transformation of a crass musician into someone who not only builds up his own self-esteem but also that of his students. Though the story is preposterous in many places (we give it a C), the film is one of the more interesting feel-good movies in a long time (we will give it B plus).  

Though Jack Black's performance as a slovenly, obese rock guitarist Dewey Finn, who gets fired from his own band and winds up substitute-teaching a class of fifth-graders, is the mainstay of the film, there are others who have come up with praiseworthy performances as well. Joan Cusack, the two-time Oscar nominee, is a knockout as the repressed school administrator Rosalie, who is terrified by the school's demanding parents, but slowly starts blooming under Dewey's influence. A lesser actress could have made Rosalie a cliché, but Cusack handles her repression and neuroses with warmth, intelligence and naturalness. We begin rooting for her in no time, hoping she finds her true self.

Also delightful are many of the musically gifted children, especially Miranda Cosgrove as the seemingly smug Summer. Many of the children had some classical music training when they came to film but picked up rock music as School Of Rock began its preparation. Which is why it does not come as a surprise that they are so convincing.

Though Black has acted in several hit films, including Shallow Hal, his maniacal work here, which is by turns humane and heart-warming, will play a big role in making School Of Rock one of the more popular films in recent months. Its three-day gross could exceed the lifetime gross (about $10 million) of one of Linklater's better-known films, Dazed And Confused, released about a decade ago.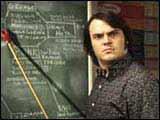 Linklater has been drawn to colourful, eccentric and rebellious characters. There are plenty of them in his new film.

Dewey Finn is threatened by his timid friend Ned's (Mike White, who also wrote the story) newly arrived girlfriend, Patty (Sarah Silverman), to either pay the rent he owes Ned for several months or leave. Dewey is at a loss; he tries to instigate Ned against the bossy Patty and fails miserably.  

Dewey gets the substitute teacher's job after answering the phone for Ned, an actual substitute teacher. Dewey pretends to be Ned and gets the job immediately. Nobody checks his ID or credentials -- one of the many improbable happenings in the film.

Bluffing his way at the uptight private school, Dewey gets busy bullying the children to leave him alone, but an accidental discovery convinces him he should train the class, which includes a guitar prodigy, and create a professional rock 'n' roll band.

If the band wins the Battle Of The Bands contest, Dewey's financial problems would be solved and he could rehabilitate himself as a rocker. But Dewey soon realises that building the band even as he tries to hoodwink the other teachers is not easy. The viewers will smile warmly as he fights, cheats, cajoles and bullies his way, while never forgetting to encourage his students. They will also tap their feet to the music.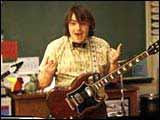 Part of the fun -- even to those who may know only a little about rock music -- is watching Dewey get the kids interested in Led Zeppelin and Jimi Hendrix. For another generation of youth, rock 'n' roll was the music of rebellion. But to these fifth graders, the music seems passé.

The music could be passé to many in the audience as well. But as you come out of the theatre, admitting that School Of Rock is indeed a guilty pleasure, you might suddenly wonder what you have been humming for several minutes.
CREDITS
Cast: Jack Black, Joan Cusack, Sarah Silverman, Mike White, Miranda Cosgrove
Direction: Richard Linklater
Script: Mike White
Rating: PG-13 (some rude humour, drug references)
Running time: 1 hour 30 minutes
Distributor: Paramount Pictures