Home > Movies > PTI

Gurinder Chadha goes to Amritsar

October 02, 2003 17:37 IST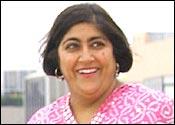 Filmmaker Gurinder Chadha (Bhaji On The Beach, Bend It Like Beckham) has a special attachment to the city of the Golden Temple, which is one of the locales for her next venture Bride And Prejudice.

In fact, Chadha got the idea of making the film in Amritsar itself two decades ago, when she had visited the city with her uncle. Her uncle's four daughters reminded her of the characters in 18th century novelist Jane Austen's Pride and Prejudice, which has inspired Bride And Prejudice.
Chadha claims that during her last visit to Amritsar, she learnt about the nature of Punjabi girls -- how they are not as shy as the average Indian girl and do not hesitate to speak their mind.
"I got to know of these qualities in Punjabi girls when I met my uncle's young daughters," said Chadha.
The film stars New Zealander Martin Henderson, Bollywood's Aishwarya Rai, Anupam Kher, Nadira Babbar and Namrata Shirodkar and Indian-American actors Naveen Andrews (seen in the Oscar-winning The English Patient and Mira Nair's Kamasutra: A Tale Of Love) and Indira Varma (Kamasutra: A Tale Of Love).


| | |
| --- | --- |
| | More on rediff.com! |
| | |
The Bennetts of Pride and Prejudice change to the Bakshis in Bride... and they go to Amritsar looking for rich husbands for their four pretty daughters.

Chadha said she decided to shoot in Amritsar as a replica of the city could not be created in London. One-third of Bride And Prejudice would be shot in Amritsar. "I cannot show the Golden Temple while sitting in London. We could recreate the interior atmosphere of the place, but not the exterior. For that, one has to reach the spot. Besides, to prepare a replica of a city like Amritsar is next to impossible for me and my 20-member crew. I want to give a first-hand experience of the city's ambience to my team."

The director said her film is not for a 'particular class of society'. She adds, "It is a global production as most of the people living in London are Punjabi British. I want to show a multicultural blend in the film. I do not have a home in India but I love Punjabi culture. I want to show it on a global level and make it popular. There is no substitute for the traditional elements of Amritsar in the world!"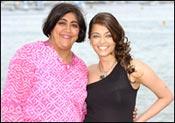 She continues, "I am awfully scared to bring Aishwaraya Rai to Amritsar as it may cause riots. It would be very difficult for the police to bring the situation under control. I am concerned about her safety. I remember two years back, two people were killed in a stampede during the shooting of Gadar: Ek Prem Katha.
"I may go for a duplicate if I cannot bring Rai to the city. I have chosen the Golden Temple, Rajasansi Airport and some villages for the shooting but it depends upon the district administration, if they can keep my schedule a secret. I do not want any publicity during the shooting as it may hamper my mission."
Anu Malik will score the music for the film. Javed Akhtar and Honey Irani's children, Farhan and Zoya, will pen the lyrics. Farhan debuted as director with the successful Dil Chahta Hai and is now working on Lakshya. Zoya's directorial debut, Nargis, is expected to go on the floors next year. Saroj Khan will choreograph for Bride And Prejudice.

Chadha's previous film, Bend It Like Beckham, is running in over 1,200 theatres in the US and is expected to end its long run in North America with a gross of about $32 million.
Click here for More Features
© Copyright 2006 PTI. All rights reserved. Republication or redistribution of PTI content, including by framing or similar means, is expressly prohibited without the prior written consent.