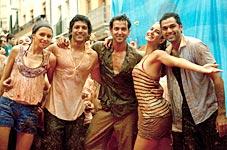 Shaikh Ayaz feels Zoya Akhtar has put together a familiar plot but the film's fresh energy is entertaining. Post YOUR reviews here!

There are about thirty plots in drama, what's new are the characters who act differently. This is what Howard Hawks once remarked. Characterising them as master plots, Javed Akhtar, in the book
Talking Films
, scales it down to ten from thirty, emphasising the need for fresh treatment. That's precisely what second-time director Zoya Akhtar does with
Zindagi Na Milegi Dobara
. She puts together a familiar plot, with recurring themes of friendship, love, coming-of-age and travel as its mainstay, but her invigorating characters pump in fresh energy into a film that could have been strictly mediocre.
It's the characters and their constant conversations, jabbering oftentimes, that elevate
Zindagi Na Milegi Dobara
to a higher rank. Looking inward, Zoya and Farhan as the dialogue-writer, borrow liberally from their own life and those around them. When a film or any story for that matter is rooted in true experience, it succeeds in transmitting the feeling easily to another person because in the end, our experiences are the same, we are raised like everyone else with friends to count on, our tiffs are the same and we love no differently.
Zoya and Farhan's biggest achievement with this film, in all honesty, is that they stay true to what they have often expressed, of how important friends are to them and how their friendships fulfilled the need for other significant relationships a man must have.
Their primary characters, Kabir, Imran, Arjun, Natasha and Laila, are the people you are or may have seen or may have hung out with. School friends, Kabir (Abhay Deol), Imran (Farhan Akhtar) and Arjun (Hrithik Roshan) had made a pact to try out an adventure sport of their choice when they meet next. With Kabir getting married to Natasha (Kalki Koechlin),
they take off for Spain in the belief that you are blessed with life only once and there won't be another time.
During the journey, their outer shells are peeled off and their true lives are revealed to one another. Emerging stronger from the experience, they are prepared to live their lives moment by moment, taking pleasure in what they have than bother over what they don't. 
The story doesn't examine their lives in detail, so we are not privy to much information except for maybe Imran's lifelong dream to meet his biological father. Kabir's mom and dad are the standard stereotypes of affluent parents while Arjun mentions his dad passed away quite early. Which is why, he argues with Laila (Katrina Kaif), he thinks of money as his greatest joy.
In a life-altering moment, Laila prods him to ask himself if this is what gives him happiness and whether he's missing out on the joys life has in store for him. For Imran, a similar epiphany strikes when his father, throwing his paint-dripped hands up in the air, refuses to accept him. For Kabir, it's whether he's getting married too early -- more importantly, is Natasha the girl he really loves?
Zoya keeps it straight, as far as the dilemmas of her characters are concerned. But as I point out, the conversations come along easily; they act as fill-in-the-blanks, even as an instrument of smokescreens at junctures where the story appears weak.  
The conversations are laced with real humour, it has a mock-you sense of fun without being derogatory or slight. When they mimic their teacher, hum the Doordarshan tune in drunken abandon or peform the Diamond biscuit parody, they aren't acting -- just going along, being themselves as friends usually do. 
The dialogue are gentle, they won't make you ROFL; they are more like tender dig in the ribs. The real triumph is that the characters are real and life-like.
If you shut your eyes for a moment, you might see your own self in Kabir, Imran or Laila.
Rediff Rating: