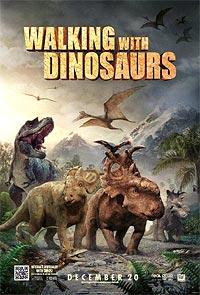 Walking With Dinosaurs has nothing new to offer, feels Paloma Sharma.

Walking With Dinosaurs could've easily been a Disney movie.

The formula is all in there -- the underdog, the childhood sweetheart, courage and rising to the occasion to emerge victorious in the end.

Applause?

Not.

Walking With Dinosaurs has Justin Long lending his voice to the protagonist, Patchy, a Pachyrhinosaurus, who meets Juniper (Tiya Sircar) as a child and falls in love with her.

While their herd is on its annual migration, Patchy, his brother, Scowler (Skylar Stone) and Juniper get separated from the group. Patchy must now guide an injured Juniper back to the safety of the group if they wish to survive the harsh, oncoming winter.

The truth is that Walking With Dinosaurs is not a great film and the makers know it too -- which is probably why they added the 3D, just to make things look cooler. But even the 3D can't save this film. The BBC documentary of the same name had done a much better job of things.

Walking With Dinosaur's only redeeming features are the enjoyable commentary by a Latin American accented bird called Alex (John Leguizamo) -- all of this happens in pre-historic Alaska, mind you -- and the information about
dinosaurs with explanations of their names. That's about it.
There's plenty of toilet humour to go and if you honestly think that your child will enjoy this then please stop insulting your child's intelligence.
Walking With Dinosaurs
is a horribly lazy attempt at making a film. The dinosaurs don't even move their mouths while speaking. One wonders why. Is this an Ekta Kapoor serial where everyone speaks to themselves, aloud and yet does not need to move their mouth?
Perhaps it is.
That would explain the headache that the film gives you. There is constant bellowing from a variety of dinosaurs, with the incessant thundering of feet and the flashbacks to Patchy's traumatising childhood when he lost his father just remind you of
Finding Nemo
or
The Lion King
.
Sure, the dinosaurs look pretty and so does the landscape. But you've seen it all before.
Walking With Dinosaurs
is like Mickey Mouse and company performed a hostile takeover of Discovery Channel and added a cringe-worthy soundtrack just to be nasty about it. I could not understand the point of making the same movie again, albeit under a different name.
There is absolutely nothing new in this film.
Watch it only if you have insomnia because the comfortable seats, the theatre air conditioning and the film will be enough to lull you to sleep.
Rediff Rating: