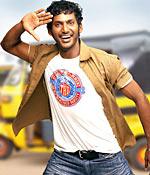 Instead of brandishing a gun, he flashes a toothy grin. And instead of mouthing endless dialogues with a poker-face, he bats his eyelids and cozies up to girls, hoping to charm them.
In the end, though, Puratchi Thalapathy Vishal does what he's always done: bash up a hundred goons and spout punch dialogues. That's what Sun Pictures' and GK Film Corporations' Tamil romantic venture, Theeradha Vilayattu Pillai (the name is inspired from the number in Netrikkann) amounts to: yet another expensive vehicle for their star.
After almost two and a half hours, instead of being charmed by the antics of a Casanova who finally discovers love, you end up gritting your teeth at the shenanigans of Karthik (Vishal), a perennially jobless, yet pampered son of two bank managers (Rathna and Mouli), neither of whom has any control over him although his mother does try to din sense into his head.
Not that it has any effect, for Karthik has great ambitions in life -- he needs to get the best of everything from pens, bikes, houses to kerchiefs. Naturally, women fall under the same, inanimate category, and he sets about trying to zero in on the best girl he can find.
In this effort, he's assisted very gamely by three friends: Vishnu (Sathyan) -- a traffic constable, Kumar (Santhanam) -- an autorickshaw driver and Mayil Samy -- a tea-shop owner. How such diverse men became friends is a moot point.
Karthik decides that he'll select three girls (there's no rational explanation for him choosing three), reject two of them, and marry the third. His argument is that what applies for houses and cell-phones, applies to love as well.
So begins our Don Juan's journey in Chennai. First up, it's Jyoti (Tanushree Datta, a former Miss India Universe, making her debut in Tamil) who, with a heart-shaped face and bee-stung lips, is some kind of an athlete (it's never shown what, exactly, she does), who slaps a guy for touching her inappropriately. Karthik is impressed with her boldness, and she's his first choice.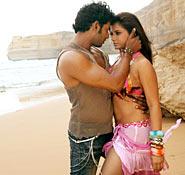 Second is Priya (Sara-Jane Dias, former Miss India World) who, when confronted with a broken marriage because of lack of dowry, promptly collects the jewels of all the guests (!) and hands it over to the bride -- and then tells her to be an independent girl.
The third is Tejaswini (Neetu Chandra), heir to Rs 1,500 crores, fiery and seductive to boot.
Karthik then begins his journey to woo them.
Naturally, there are lies galore, as Karthik poses as a poor guy to one, a woman-hater to another, and drops an entire police battalion on the third. All three fall for him at the drop of a hat. Many forgettable duets (to Yuvan Shankar Raja's music), filmed in Australia and Maldives, later, the shoe drops: Tejaswini, with an understanding father, and a failed love attempt, is the first to stumble on the truth.
Tejaswini confronts him, and here is where the story, which has been fairly racy and light-hearted up to now, begins to get on your nerves. The film goes on, but by this point, you couldn't care less.
It's high time Vishal took a break and analysed exactly what he's trying to be. Action hero? Lover boy? Sentimental romantic? Or an honest actor, with some real skills and perseverance? In this movie, the script has been compromised at every turn, to accommodate his star status: one minute he's Padaiyappa's Rajni, taunting the rich girl, 'instructing' her about values and overturning her schemes; at others, he's aping Rajni of Netrikkann -- except that he's nowhere as effective or suave.
He apes Suriya to the hilt in the romantic scenes, walking, dancing, even rolling eyes like the other actor. In addition, there are a couple of stunt sequences where he bashes up a hundred goons; not even a steel kadapparai fazes him. Otherwise, he delights putting one over the girls, drinks, smokes, and tries a comic act that pales in comparison to his cohorts'. If anything, it's Santhanam and Sathyan, who take the credit for a reasonably entertaining first half.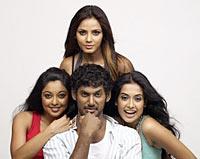 Of the three ladies, Neetu Chandra walks away with the honours. She's seductive, sizzles on-screen with her outfits, looks like Zeenat Aman at times and Dimple Kapadia at others, and zips up so much sex appeal that you wish she'd been given more screen space. Tanushree Datta stands around, looking clueless mostly, while Prakash Raj brings the house down with his breezy act.
Sara-Jane Dias is a disappointment. Her lip-sync goes haywire, and her face, at any given point, looks expressionless. She looks like she has no idea about what's happening.
The production values are top-notch. Arvind Krishna's cinematography brings a fresh, cool look to the proceedings; the camera fawns over the heroines, and the tone suits a romantic flick. T S Suresh's editing is neat while Yuvan, though not very enthusiastic about the songs (except perhaps En Aasai Ethiraliye) has made up in the background score with the Netrikkann signature tune. The stunt directors have gone to town, blowing wind, boots scraping, and all, while Vishal flies in the air, thrashing men to glory.
It is Thiru, though, who must shoulder the blame for a wishy-washy script, dialogues that need heavy editing, and a trite second-half.
Forget the super-hero. Watch this one for the comedians' antics, Neetu Chandra and the behind-the-scenes fun. This chauvinistic Casanova inspires no melting romance for Valentine's Day.
Rediff Rating: