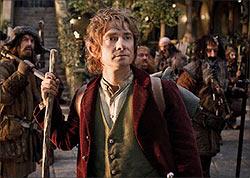 Sukanya Verma feels The Hobbit: An Unexpected Journey is a visually mesmerising.

I had a little unexpected adventure myself today. Or like Bilbo Baggins puts it across, 'Nasty, disturbing, uncomfortable things!'

Owing to technical issues, I, who set out of home half past nine, endured endless delay, one and a half cancelled show, hopped between two multiplexes, refused to take off my 3D glasses and grant them the pleasure of a second cancelled show just because I turned out to be the only representative of the human race inside the eerily empty theatre (Alright, there was one another crazy Tolkientard like myself).
Needless drama notwithstanding, there is no way I would go home before I was shown The Hobbit: An Unexpected Journey, perhaps the (potentially) best last movie of this year. Quite a warm-up, I agree.
But now, just like my dear Mr Baggins, I am there and back again, writing a review of what I deem the most rewarding three hours of 2012.
As the unofficial ambassador of Middle Earth, filmmaker Peter Jackson defines reverence and tribute to all things John Ronald Reuel Tolkien.

His comprehensive portrayal of The Lord of the Rings trilogy has rightfully earned him the reputation of someone who has this incredible access to the innermost workings of Tolkien's mind and authority to revise or remold.
This gift comes across ever-so prominently in the precursor to the celebrated author's weighty saga of indestructible evil versus incorruptible good.
It is, in comparison, a wee fairy tale about a party of dwarves, a wise wizard and a bungling hobbit (a winsome Martin Freeman effortlessly gets inside the younger, animated Bilbo) and their fantastic quest for treasure in the Lonely Mountains guarded by a furious dragon named Smaug (Any beast coming out of Tolkien and Jackson's combined imagination cannot be anything but spectacular. And here we catch just a few glimpses).
Unlike Ralph Bakshi's version which never goes beyond superficially skimming through Tolkien's concise but satisfying children's fiction through its whimsical animation and oversimplified narrative, Jackson breaks up the action-chapters, spreads them out, lends his protagonists an aura of heroics they didn't originally possess, decorates them with details absent in the source, substitutes the mirth of the proceedings with magnitude, plays with the chronology of events and tests your devotion for Middle Earth (This being the first of three long movies).
For some of us who devoured special DVD editions, extended cuts and deleted scenes to catch that extra something that was shot but not shown from LOTR, the idea of more and prolonged is more than appealing.

For subscribers of the stick-to-the-book policy, the maximisation could be a tad bewildering. But for those who value imagination, the intricacies and subplots Peter Jackson has invested in this 'children's book' will more than impress.
Yes, there is déjà vu. The same one you feel when you return home to the comforts of an agreeable space -- a familiar aroma, a favourite spot and known warmth.

And so it's nice to knock on that round and colourful Hobbit door once again, revisit the magnificent architecture of Rivendell, silently 'so long' some of its most iconic members against Howard Shore's stirring score blending a mix of new and old and engage in a series of amusing brainteasers with the epic's most unforgettable creation Gollum.
The combat between Gandalf (Ian McKellen may appear slightly weary but his reflexes are razor-sharp as ever), the dwarves and The Great Goblin and his men brings back memories of the Bridge of Khazad-dum.

While never as smooth or sophisticated as the previous edition, it strives to keep a feverish pace producing some edge-of-the-seat moments. You must not forget that while the Fellowship comprised of a great variety -- man (warriors and kings), hobbit, elf, dwarf, wizard and diverse talents, barring Bilbo and Gandalf the entire troop is dominated by dwarves who are resemble each other in physicality and technique.
And that brings us to another quality that works in Hobbit's favour. He rises above Tolkien's one-dimensional description of them as greedy and grumpy, lends them personality and a real purpose.

Whether it's Thorin Oakenshield (played by the enigmatic Richard Armitage, he's bolstered by a back story, Aragon style, about forefathers and lost honour) as the leader of the pack or the sagely second fiddle Balin or the others you don't quite know by name yet, Jackson successfully sparks a connection between the viewer and his/her inevitable role in rooting for the dwarves.

I particularly liked how he's developing Thorin, the final payoff should be, maybe I am getting a little too ahead of myself, most effective.
Even the scenes at Rivendell, conveying the lifestyle differences and obvious rivalry between the boorish, greens-detesting dwarves and sophisticated, political elves exhibiting delicate manners are deftly
handled.
The Hobbit is visually mesmerising and, even though I am never too happy about wearing 3D glasses, the technology does the cumbersome detailing of Jackson's skillful art and technical team a huge favour by pointing it delightfully in your direction.

Sometimes with a puff of Bilbo's smoke and on others a marvelous close-up of Gollum's sparkling blue orbs glimmering with mischief, melancholy.
I, for one, deliberately stayed away from watching it on a 48 frame per second view though I am infinitely curious about this curious new technology. I didn't want to be distracted by The Hobbit's essential merits, which is a slight contradiction considering the success of Gollum is a testament to the beauty of advancement.
Yet, as a personal choice, I wanted a relatively traditional filmmaking experience to appraise Hobbit before I experience the
breakthrough in clarity and tangibility it has to offer.
The only aspect I am not convinced about is why Jackson chose to depict Bilbo as an enthusiastic participant of the quest when he was literally forced to join as a 'burglar' on a trip to Lonely Mountain.

This sudden thirst for adventure is never truly translated on screen. But it's like Gandalf, possibly echoing Jackson's own sentiments, says this task to succeed needs 'tact, respect, charm' and 'which is why you'll leave the talking to me.'
Aye, Aye Jackson!

Rediff Rating: