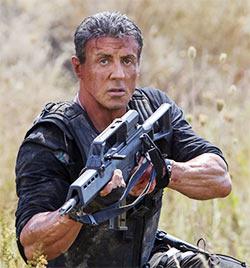 Suparn Verma may have issues with The Expendables 3 but the joy of watching its iconic cast on screen is a movie event marked in his calendar until they keep making them.
As kids, we found our heroes in muscular men who destroyed evil, surmounted impossible odds and came out winners.
We read their stories and got inspired, and when we couldn't do that last push up, we invoked their faces and managed to make it till we collapsed.
Sylvester Stallone, Arnold Schwarzenegger and Bruce Willis were the three Khans of Hollywood action movies but they chose to stay away from ever being paired together even though they did start the Planet Hollywood chain of restaurants in partnership.
It remained every action junkie's dream to see these three men sharing screen space until Stallone decided to start the Expendables franchise. The poster alone ensured that the movie would be a hit.
Of course, The Expendables franchise is the last hurrah of these action heroes -- Sylvester Stallone, Arnold Schwarzenegger, Bruce Willis, Mel Gibson, Harrison Ford, Wesley Snipes, Chuck Norris, Jean-Claude Van Damme, Antonio Banderas, Dolph Lundgren, Jet Li, Jason Statham, Mickey Rourke, Eric Roberts, Steve Austin, Terry Crews, and many more.
They are now relics of a time gone by.
When the first The Expendables movie came out in 2010, Stallone was very conscious that the cumulative ages of the cast put together was over a 1,000 years so he handled the film with a light touch. The banter was fun, and the cast as well as the audience were in on the joke.
With The Expendables 2, the jokes got drier but Chuck Norris showed up at random times and we made it through.
With The Expendables 3, it feels like even the makers know they won't get another chance so they throw in everything into the works.
A very tired-looking Harrison Ford appears at the start, and then in the climax, as part of the good guys and a even more tired-looking Mel Gibson plays the bad guy.
Kelsey Grammer does a cameo to help Stallone recruit some young blood.
Antonio Banderas' character is supposed to talk nonstop. The only problem is he reminded me so much of Puss in Boots that I had a tough time seeing him as anything else.
Wesley Snipes joins the action with a character that had a lot of interesting possibilities, but never explored.
There is a lot of action, and some interesting stunts.
But they don't seem to be having fun anymore.
Everyone seems tired. The jokes too.
Clint Eastwood did a fun take on his action image in Space Cowboys (2000), and the film never took itself too seriously.
The Expendables 3 has a heavier touch.
But here's the real truth.
Every guy I know has been hugely inspired by these action heroes at some point of time or the other. At least one of them has adorned our walls.
These heroes have battled impossible odds and won. So a dying franchise has simply no chance against the fact that their audience's blood gets pumping just by the very idea of of The Expendables 4.
I may have issues with the third installment but the joy of watching these heroes together on screen is a movie event marked in my calendar until they keep making them.
Rediff Rating:

Suparn Verma is a well-known filmmaker and a member of the founding editorial team at Rediff.com