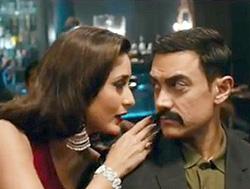 Sukanya Verma feels that Talaash is a riveting combination of sentiment and suspense.
Analysis is the birthright of murder mysteries.
And there are three sub-genres to it -- one which deliberates on the technique and scheme of an execution, the other which relies on the shock and surprise of who did it and finally and perhaps most underestimated is the one that deals with the motive fuelling the thrill of investigation. And it is this very psychological post-mortem of why over who that dictates the immensely fascinating and absorbing developments of Reema Kagti's
Talaash
.
I've always enjoyed suspense and feeding my inner Poirot with various theories while looking out for signs in their sly, concealed bodies.
But as Kagti is a bit hasty in giving out clues, I can't say I was blindsided by the turn of events. When one has watched enough films dealing with such elements, the did-not-see-it-coming astonishment is substituted with an appreciation (or otherwise) for approach. And that's why I doubly applaud her ability to keep me untiringly hooked for nearly 150 minutes.
Co-Written by Kagti and filmmaker Zoya Akhtar with additional dialogues provided by Anurag Kashyap,
Talaash
is a joint collaboration between Farhan Akhtar-Ritesh Sidhwani and its leading man Aamir Khan.
Like the latter's previous productions
Jaane Tu Ya Jaane Naa
and
Dhobi Ghat
,
Talaash
's opening credits, too, celebrate the exquisite portraits only South Mumbai can provide but with a tinge of doubt and jeopardy through cinematographer K U Mohanan's brilliant, bokeh-filled glimpses of familiar moods and murky landmarks that redefine the city's appeal in the night.
And it is underscored by Suman Shridhar's slinky rendition of
Raat mein hi jaagte hain yeh gunaahon ke ghar
(More power to Ram Sampath for a terrific
soundtrack
and background score).
No sooner have I surrendered to the stark serenity of Mohanan's mesmerising and charismatic late night drive, I am jolted by a spectacularly-shot car accident at Worli Sea-Face, a sleek sedan is furiously tossed and swallowed in no time by the magnificent waters, also witnessed by a bunch of equally shocked bystanders, which includes a clairvoyant terrier.
It is first of the frightening but effectively picturised mishaps to follow reinforcing my belief over the course of
Talaash
that Kagti's got what it takes to make a robust action film. She films her most vigorous scenes with a kinetic energy that's enormously realistic and heady.
And at the same time, her script with Zoya is so much more than a short-lived span of a thrill or a guessing game of deceit, its core substance comes from the complexities of its discontent characters -- a family coping with a tragedy and their desperate attempts to move on or the irony of another man's dishonesty in order to stay true to his heart.
The red light district and its kitschy ambiance have an important role in
Talaash
, which is sympathetic towards sex workers and their plight without deviating from the mystery but lends in soul.
Eventually a well-written script, where even the dialogues are deceptively simple yet lyrical, conversations that are brief but lingering, rescues
Talaash
from its pale conclusions and a few clumsy plot devices. I do wish Kagti was a tad more paranoid about giving out details too soon so that the culmination would've been a little less obvious.
The greatest accomplishment of this suspense drama is the cast -- both immediate and extended. I cannot think of a greater compliment except no actor could have (or should have) done the roles except the ones who did. Aamir Khan, Rani Mukerji, Kareena Kapoor, Nawazuddin Siddiqui, Subrat Dutta, Raj Kumar Yadav or Aditi Vasudev (Do Dooni Chaar's Payal) are all perfectly cast.

While Rani stuns with her tenderness, melancholy, doubts and later an outburst that brings back memories of the fire-breathing Shashi in Yuva, Aamir (sporting a look that reminds me of Vegeta with mustache in Dragon Ball Z) embodies a rock holding a storm within.

He doesn't always let you know what he's thinking and that allows you to distinguish his methodical professional from his wounded personality. He's particularly effective in an incredibly emotional 'If only' moment that argues with possibilities and rues with regret.

His interactions with Kareena Kapoor are woven with the goal to enamour. And they fulfill those ideals with his precision and her impulses. There's this inexplicably enthralling quality in Kareena, especially when she teases the camera with her composure while actually holding back a world of vivacity. 

Every time she does this, her performance achieves a resplendent balance that is as irresistible as her delicate looks.  

And finally there's Nawazuddin (of whom the trailer gave an impression of a minor role) living one of the most interesting parts and a wonderful chase sequence that pays (I am not sure if it's intentional) a whiff of a tribute to Mazhar Khan in Shaan.

Talaash is a riveting combination of sentiment and suspense. And it's certainly raised my bar for Reema Kagti as a filmmaker.

Rediff Rating:




Also Read: Review: Aamir Khan's Talaash works