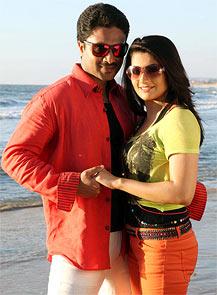 Srikanth Srinivasa says Sweety is a total family entertainer and is a must watch for Ramya Krishna's expressions and Radhika's ravishing new look.

Director Vijayalakshmi Singh has chosen a subject that will appeal to families. Sweety is essentially meant to be a comeback film for Radhika Kumaraswamy who is back after five years, post marriage and motherhood.

It is worth the effort for both the director and Radhika.

Siddharth (Aditya) is the well-to-do son of a single mother Vasundhara (Ramya Krishna) who runs a business empire. He dreams of meeting a girl he can fall in love with.

He meets Priya (Radhika Kumaraswamy), who comes from a middle-class family and hates rich suitors. But Siddharth becomes her colleague and walks into her heart. He now has to get approval from his mother.

Vasundhara disapproves of her son marrying a middle-class girl but doesn't rebuff him. What follows is a cold tussle between mother and son with Priya made to pay the price.

The interesting part is that this is not an unusual story, but it keeps you engaged.


Director Vijayalakshmi Singh has kept the plot very simple and she deserves full marks for the entertainment that the film provides.
It is a makeover for Aditya, who usually does action roles. He gives a good performance and acquits himself well.
Radhika looks ravishing and comes as a surprise for those who have watched her earlier films. After playing sisterly and docile roles in the past, she is presented like a diva, given her appealing looks and clothes.
She has changed herself totally and there is no hint of the past in her performance.
It is a delight to watch Ramya Krishna, as usual, who simply lights up the screen with her presence. Umashri is adequate and so is Jaidev as the hero's friend.
Ajay Vincent's camera work is good as he takes you to the Kashmir valley where a song is picturised amidst the tulips and the snow.
The music is average, but the songs have been choreographed and picturised well.
Sweety
is a sweet love story and a total family entertainer. Go for it with your family!
Rediff Rating: