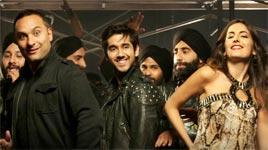 Preeti Arora writes Speedy Singhs is predictable but packs in a lot of laughs and tears. Post YOUR reviews here!

Ten minutes into Speedy Singhs, and one knows exactly how the story will progress -- the underdog in the course of 100-odd minutes will get transformed into the man-of-the-match.

With cricket having been explored once too often, it was a matter of time before enterprising directors turned to other countries and varied sports for inspiration.

So borrowing liberally from other 'sporty' films of the last decade --mainly Bend It Like Beckham, Patiala House and Iqbal -- Speedy Singhs, set in Toronto, is about a motley group of young sardars who don't even aspire to play ice hockey professionally. They've accepted their status as a community which doesn't really belong even though many of them were born in Canada.
There is no subtle way of saying this. Speedy Singhs has nothing new to offer us whether it's the struggle to buy uniforms, or the coach changing captains to tone down egos. Yet, the film is refreshing and manages to hold your interest.
Vinay Virmani (Rajvir Singh) is being coerced into the family business by his all-controlling father Anupam Kher. It doesn't really bother him, he lives a double life pretending to be the good son at home and the 'happening hockey player' outside. A duality many first-generation non-resident Indians may relate to.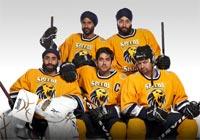 Controlling dad Anupam Kher refuses to let go of the reins, and is probably the only bit of miscasting in the film. Where the entire cast comprises Canadian born Indians, he's quite the odd-ball. One really doesn't know where the problem lies, directors who keep offering him roles which Kher can do in his sleep or Kher's own weakness in not being able to turn down these offers.

Speedy Singhs isn't all about the game and the sport and the winning goal. It's also a romcom with sizable chunks of melodrama tossed in for good measure. It's about the generation gap, racist issues, the immigrant experience of craving security over fame et al. All possible ingredients needed to turn the film into a mish-mash potbroiler.

The

redeeming factor is the humour underlying every sequence in the film. It diffuses the tension and succeeds in evoking laughter almost all through the film. Like the kid brother taking advantage of the older sibling's fight with the father. Or the abdominal guard with Reena painted on it in bold letters. Crude, but real. Locker room jokes in earnest.

Rajvir's cousin is engaged to a loud Punjabi brat (Sonu), who's getting married as he fancies his rich father-in-law possibly more than he loves his bride Reena. Sonu played by Russell Peters is the surprise element in Speedy Singhs. As a stand-up comedian, Russell generally has his audience in splits. Here as the scheming son-in-law he's authentic. And funny, despite the limited scope of his role.

The coach Dan Winters (Robert Lowe) is a failed ice-hockey player (reminiscent of Chak De! India and SRK) who wakes up to the realisation about desis being marginalised even though they have the talent to turn professional. He employs the services of a kabbadi player to lead his team to victory. Unrealistic and unbelievable.

Rajvir's girl friend Melissa probably has the corniest lines in the film. "I don't date truck drivers neither do I date hockey players."

But her relationship with Rajvir -- which begins on a spontaneous note of attraction -- gradually evolves into mature bond with her becoming equally committed to his cause.

The cinematographer has succeeded in capturing the game beautifully on screen. The camera movements flow with the game keeping the viewer enthralled. The film needed to focus more on the game itself, the technicalities and the moves.

The music is mediocre and does nothing to help the film. Flashily dressed, overweight Punjabis jumping clumsily at fundraisers or bachelor parties is something the film could have done without.

Speedy Singhs is about the tiny nuances of NRIs, their ambitions, their goals, their frustrations, their hopes and dreams. If you are looking out for an original script, give this a miss. But if you enjoy family dramas, with lots of laughs and tears go for this.

Rediff Rating: