A delightful supporting cast rescues an underwhelming film, says Sukanya Verma.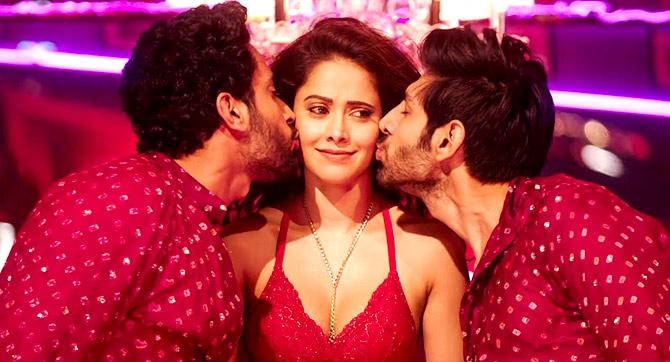 In Luv Ranjan's brand of creativity, misogyny is a movie genre by itself.
Men are lovesick fools better off bonding with members of their tribe whereas women are untrustworthy, scheming, shrews latching on to a guy for his money or merriment.
After the runaway success of his Pyaar Ka Punchnaama series, he uses the same 'bro' versus 'bae' shtick to extract lowbrow laughs in Sonu Ke Titu Ki Sweety.
Unlike its tongue twister of a title though, the plot is a no-brainer rehash of his favourite theme.
Well-heeled Punju lads, Sonu (Kartik Aaryan) and Titu (Sunny Singh) are best friends and inseparable since kindergarten. In other words, they share a roof, a family and a whole lot of alcohol while drumming on half a dozen Caucasian derrieres.
Titu is a bonehead whose denseness is mistaken for lack of guile.
Sonu, the deceit-sniffing smart-ass, takes it upon himself to keep his doofus pal from harm's way by getting rid of any girl (Ishita Raj) who gets too close for comfort.
But when Titu's marriage is fixed to the sickeningly sweet, er, Sweety (Nushrat Bharucha), Sonu starts to smell a rat.
A woman is incapable of any good unless she has vested interests in Luv Ranjan's worldview. All the more so if it incites a saas-bahu-like friction and game of one-upmanship between Sonu and Sweety.
Ranjan straight out treats their face-offs like the ones you see in desi soap operas. Only this time, it's romance pitted against bromance for no apparent reason except meaningless supremacy.
From what I gathered, Sweety's biggest crime is she's not exactly thrilled about her to-be life partner's round-the-clock dependency on sneaky Sonu. The script judges her unfairly and paints her into a two-faced, manipulative vixen for wanting security or sex.
If her control freak ardour actually had some rationality behind it, the dost-dost-na-raha/pyaar-pyaar-na-raha narrative would still hold some bite.
As things stand, Sweety is little more than a punching bag for the cult of the women-hating brotherhood. And Nushrat Bharucha's sl0-mo simpering hardly helps.
Despite its smothering ideas of both friendship and romance and woeful predictability, Sonu Ke Titu Ki Sweety amuses in fits and starts by virtue of a delightful supporting cast.
It doesn't take much to warm up to the chatter and banter of the whimsical relatives gathered around the pesky titular oafs.
As the expletive hurling, recliner happy, and whisky glugging cronies, Alok Nath and Virendra Saxena throw their sanskari caps out of the window and preach irreverent gyaan like they've practised it.
Next to their boisterous Chandler and Joey-like camaraderie, Sonu and Titu's pale boy bonding stands no chance.
Even where the humour has a potential for slam-dunk, neither Kartik nor Sunny are able to get their feet off the ground and go beyond what's on paper. Against their bland impulses and phony chemistry, the joke either falls flat or doesn't register at all.
Ditto for the melodrama.
The girlfriend outwitting the best friend and vice versa trope too gets tired after a while. Just like the gag with the niggling domestic help.
Pedestrian wit works best around actors who don't just go with the flow, but shape it to suit their comical timing. That's the difference between performers and parrots.
But the underwhelming leads of Sonu Ke Titu Ki Sweety don't seem to know the difference at all.
Rediff Rating: