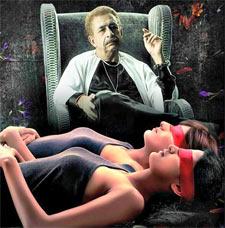 Sona Spa makes for one confused piece of work, leaving one's cinematic sensibilities feeling similarly, writes Preeti Arora.

Makarand Deshpande's personal and professional lives are somewhat legendary in Mumbai's theatre scene. There's the wacky hairdo to begin with, then the entertaining and morally simplistic plays that he dishes out ever so frequently.

Drama geeks revere him as the leading light of the Ansh theatre company, and not because he's breaking tremendous new ground with his work on stage (he isn't) but because he's keeping the stage alive against all those odds that most others of his vocation fail to overcome -- Money, time, space, money, human resources, money.

So, full credit where it's due.

When it comes to films, though, Makarand Deshpande should... how do you say this... stop.

His last film, Shah Rukh Bola Toh Khubsurat Haiwas, in true Makarand Deshapande style, preachy.
Sona Spa takes his usual pop-psychological sermonizing and sends it flying into another dimension. Wobbling precariously between half-baked magic realism, implausible science fiction and Madhur Bhandarkar-esque 'realistic' (read: sleazy) filmmaking , Sona Spa makes for one confused piece of work, leaving one's cinematic sensibilities feeling similarly.
Rucha and Ritu aren't sex workers, they're sleep workers, under the employment of Sona Spa.
Here's the deal: you can pay Sona Spa for their services, only Ritu and Rucha won't sleep with you. They'll sleep for you.
As a result, for just Rs 2,500 an hour you can spend all night binging but as long as Rucha and Ritu sleep well, you'll feel fresh as a daisy the morning-after. Here's a catch: when you pay your sleep worker to do their job, they're not just sleeping your sleep, they're dreaming your dreams, too. Tough price to pay if all you wanted was to skip a hangover.
It's a gold nugget of plot, let's admit; very H P Lovecraft, something sci-fi geeks would crave Christopher Nolan to direct. Already in just one paragraph you can sense the potential of not just a well made film, but also a genuine, hard-hitting moral. Instead of developing the idea enough and shaping it into some concretely original story-telling, Deshpande waxes eloquent with a battery of fancy (also unnecessary) dialogue and way too many sub-plots.

There's Choksey, the homicidal cross-dressing millionaire and his gun with which he threatens to kill off, one by one, his posse of mistresses.
There's Minakshi, the ex-prostitute who is now rehabilitating herself as a sleep worker.
There's Hussain, the corrupt cop who doesn't play an entirely crucial role in the film but hangs around anyhow, until Minakshi rides away with him on his motorcycle.
There's Ritu's academician brother-in-law, comatose father, and troubled sister, who is apparently a mathematical genius of some sort.
There's Rucha's alcohol problem, her father's alcohol problem, her dead mother, and some guy friend of hers who says 'Wow'at least five different times in the course of the film.
There's Indira Ma'am, who runs shop at Sona Spa, and her mentally challenged younger brother Sachin who loves ice cream and cake.
After a while, one loses count of the harebrained loopholes that gape through the script. The acting is painfully amateur, with most of the faces being recognisable to anyone who has ever spent enough time at Mumbai's Prithvi Café.
In his short cameo, Naseeruddin Shah plays an occultist baba, the man behind the concept of Sona Spa, who very conveniently lives in Seattle because 'vaha bahut zyaada sleep ki problem hai'.
Be it on stage or behind the camera, Makarand Deshpande needs to learn that it isn't his responsibility to educate us about the ills of modern life. We're all too aware about the pervasive nature of Bollywood celebrity and pop culture in the everyday (as portrayed in SBTKH), and we sure as hell know about sleep disorders. It's about time Mumbai's most conspicuous theatre personality tries telling us a story for the sake of the story itself, and not because of some underlying itch to share his midnight epiphanies with the world.
Rediff Rating: