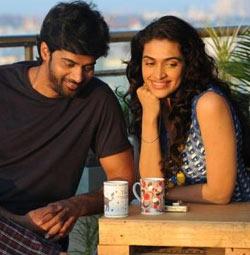 Sarabham is an average mystery thriller that revolves around a kidnapping charade gone horribly wrong, says S Saraswathi.
Sarabham is C V Kumar's third production this year, after Thegidi and Mundasuppatti.
The film is directed by newcomer Arun Mohan, son of veteran actor and comedian Anu Mohan. Britto Michael makes his debut as music composer. Krishnan Vasanth is the cinematographer
The title Sarabham refers to a mythological creature often found sculpted in South Indian temples. It symbolises freedom and power.
The female lead, Salony Luthra, sports a tattoo of the Sarabham at the back of her neck in the film.
Salony is a Mumbai based theatre artiste. She has a significant role in the film and has given a good performance.
Naveen Chandra plays the male lead, supported by Aadukalam Naren.
The plot revolves around Chandrashekar (Aadukalam Naren), the MD of a large successful firm, his daughter Shruthi (Salony) and Vikram (Naveen Chandra), a promising young architect.
Though quite successful, Vikram is under constant pressure to make more money to support his extravagant lifestyle. The story opens with an excited Vikram on his way to meet Chandrasekhar, who has requested designs for the construction of a theme park.
Vikram is confident that the designs he has painstakingly worked on for more than eight months will be approved. But an ego clash between the two men ends the meeting. Chandrasekhar rejects the designs and Vikram is totally devastated.
He gets drunk and visits Chandrasekhar's house in the dead of night to vent his frustration. Shruthi chooses that very same day to run away from home. She is a drug addict and is angry with her father for refusing to give her money.
The two meet and discuss their mutual hatred for Chandrasekhar. They cook up a plan to kidnap her to extract money from him.
Things go smoothly for them. Chandrasekhar readily parts with Rs 30 crore to save his daughter, and she is safely released.
But the next day, things spiral out of control. There is news that Shruthi is found dead on a beach behind her house.
Vikram has no clue what is happening as the entire plan was a charade and Shruthi was handed over to her father unharmed.
Things continue to get more complicated, right up to the climax, where there is a big dramatic twist.
The interesting plot is spoiled by the poor narrative style. Every time there is a twist in the tale, the very next scene explains it all. There is no build up of excitement and the film moves at a snail's pace, particularly in the first half.
The film does not get boring, but the thrill element is definitely missing.
What is refreshing is that the director has done away with the romantic angle, unnecessary fight sequences, a comedy track, and songs inserted at odd intervals.
Technically, there is not much help for the film. The music is average and so is the cinematography.
The film may have its flaws, but it is a decent attempt by the debutant director.
Rediff Rating: