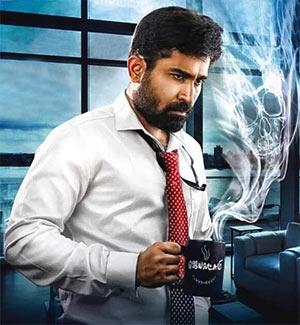 The first half of Saithan has a lot of suspense, says S Saraswathi.
Debutant director Pradeep Krishnamoorthy's Saithan (Bhethaludu in Telugu) is a decently made thriller that attempts to delve into the complexities of the human mind transcending the barriers of time.
The film features music composer-turned-actor Vijay Antony, whose previous film Pichaikkaran was a huge success, and newcomer Arundathi Nair.
Vijay has composed the music for the film, while his wife Fathima Vijay Antony produces the film.
Vijay plays a sedate software professional Dinesh with a beautiful wife Ishwarya (Arundathi) and mother (Meera Krishnan). The film opens with Dinesh visiting a hypnotherapist to treat the voices he hears inside his head telling him to do things like commit suicide or kill someone.
Hypnosis takes him back to his past life, where a familiar name 'Jayalakshmi' begins to haunt him.
The first half has a lot of suspense, he goes on this search for this mysterious face. Unfortunately, when all the pieces of the puzzle come together, what emerges is not as compelling a picture as promised in the first half.
The screenplay goes from intense and exciting to a rather unremarkable flashback and a lame climax with the hero turning all-powerful to overcome everything real and imaginary in his life.
The terrifying bad guy turns into a stuttering fool and all ends well in typically cinematic fashion.
Yet, at just over two hours, the narrative moves at a frantic pace and there is enough confusion to keep you engaged.
Vijay's music complements the film, maintaining suspense and uncertainty.
For a man stuck in a nightmare, Vijay appears too intense, brooding and mechanical rather than frightened or helpless. His fears don't seem quite so real.
Arundathi Nair gives a good performance as the loving and supportive wife, as does veteran actor Y G Mahendra, in an important role as Vijay's boss.
Things are pretty chaotic at the beginning and the suspense keeps you engrossed. The director, however, chooses to get overly rational towards the end dissecting and explaining every fear of the unknown and the paranormal taking away all the fun.
The film may not be a well-crafted thriller but the emotionally packed plot filled with love, retribution, forgiveness, jealousy and anger keeps the narrative moving at a brisk pace. This, coupled with the haunting music, makes Saithan a decent watch.
Rediff Rating: