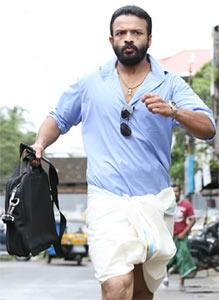 Paresh C Palicha says Punyalan Agarbatthis is a well executed film with Jayasurya along with the rest of the cast giving a likable performance.

Social satire has been the lifeblood of Malayalam cinema since the 1980s, with its middle class protagonist aspiring for a better life against all odds.

But he is reconciled to his fate in the end and continues to struggle with the problems of daily life. The times may have changed, but this mould of storytelling is still popular.

Director Ranjith Sankar uses this mould in his new film Punyalan Agarbatthis, with Jayasurya in the lead. And, to his credit the director gives a contemporary feel to the age old formula.

Joy Thakkolkaran (Jayasurya) leads a good life that is financially secure with a working wife and family inheritance. Still he wishes to make his mark as an innovative entrepreneur (Dhirubhai Ambani is his idol).

He has put up a factory for making incense sticks out of elephant droppings, a natural resource that is freely available in the state.

But the social and political climate is stifling for an ambitious individual wanting to do something out of the ordinary.

The first challenge is the raw material, which is available in abundance, but involves fighting with the temple authorities, convincing the Elephant Owners Association, making the mahouts happy etc.
Lazy workers and politicians who will declare a hartal or strike for the silliest reasons, and the extended family that is ready to pounce on any given opportunity, are other headaches.

The script is peppered with humour that goes well with Jayasurya's image. Topical events like hunger strikes and sting operations are woven into the story.

The fact that an unbiased judicial system is the only hope is hammered in by showing Joy taking legal recourse and coming out trumps more than once.

The dialogues are garnished with messages about having a positive attitude, pep talks and new age jargon like 'stock options' that are quite amusing.

The other heartening thing about the film is that the women are not relegated to the background or used just as props to make the scenes colourful.

Here they are on an equal footing, whether it is Anu (Nyla Usha) as the wife who financially supports her husband in his endeavours, or Sai (Rachana Narayanankutty), who appears as the no nonsense lawyer helping Joy with his court cases.

Apart from the main actors, there are performers who tickle our funny bone; Sreejith Ravi who appears as the driver of the mini lorry takes the top honours in this department.

Punyalan Agarbatthis is an extremely likable and entertaining film.

Rediff Rating: