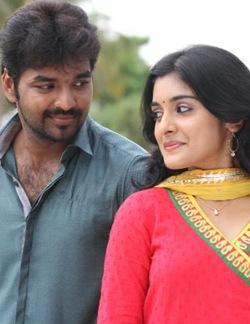 Tamil film Naveena Saraswathi Sabatham is a pathetic first attempt, according to S Saraswathi.

K Chandru, who was mentored by ace comic directors C S Amudhan (Tamizh Padam) and Venkat Prabhu, makes a disappointing debut with Naveena Saraswathi Sabatham (NSS) -- a fantasy comedy.

The film is produced by Kalpathi S Aghoram and brothers under their home banner, AGS Entertainment.

NSS features Jai, Niveda Thomas, VTV Ganesh, Sathyan, Rajkumar, Mano Bala and Subbu Panchu in prominent roles.

The film revolves around four friends, Ramarajan (Jai), Ganesh (VTV Ganesh), Gopi (Sathyan) and Krishna (Rajkumar).

Ramarajan is a doctor, following in the footsteps of his father, a famous Siddha sex doctor.

Ganesh is the terrified husband of Swarna Akka, a local don. Gopi is a politician, while Krishna is an aspiring actor keen to work in a Venkat Prabhu film.

In fact, Venkat Prabhu makes a brief appearance in the film as himself.

Ramarajan falls in love with Jaishree, a singer, and since there is no objection from their parents, their wedding is fixed. With just a month to go for the wedding, Ramarajan and his friends plan a sleazy bachelor's party in Bangkok.

Lying to their respective families, the four land in Bangkok. However, after a night of drinking and dancing at a pub, they find themselves marooned on an island with no clue how they got there.

The fantasy element in the film now comes into play. The Hindu deity, Lord Shiva, has chosen to experiment with these four friends to send out an important social message: the ever-increasing
problem of excessive alcohol consumption and its negative impact on the individual, family and society.
The rest of the story is about how Ramarajan and his friends respond to this divine intervention.
Besides the most obvious similarity to Hangover and Saraswathi Sabatham, there are also references to Cast Away, Thiruvilayadal and Naduvula Konjam Pakkatha Kaanom.
In fact, the film seems to be a botched up mixture of several films. And neither the characters nor their performances help to improve matters.
The tech savvy, fantasy celestial characters are hard to digest. Ganesha on his treadmill, Muruga hooked to his iPad, Lord Shiva monitoring the world on his huge iMac, and Parvathi exchanging text messages with Narada on an iPhone, just seem to be totally ridiculous, even for a fantastical world.
As far as performances are concerned, no one stands out. Even Jai is disappointing after his recent success with Raja Rani.
And while Niveda Thomas has been totally ignored, VTV Ganesh has been given a meaty role. Though some of his antics are funny, his habit of drinking alcohol from a feeding bottle is quite disgusting.
Director Chandru's Naveena Saraswathi Sabatham is a modern interpretation of Thiruvilayadal -- the divine game played by the gods to teach humans a lesson.
It's an interesting concept that had the potential to be a huge entertainer, but the director has messed it up by adding too many modern twists to the plot, as well as the characters.
The characters continuously remind us of the innumerable films the movie has been sourced from. The end result is a pathetic film.
Rediff Rating: