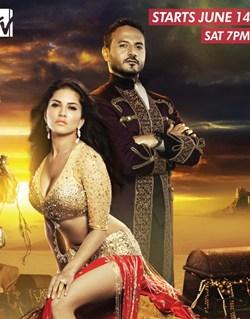 MTV Splitsvilla 7 is the most mindless show even by reality TV standards, says Nishi Tiwari.

Twenty scantily clad 20-somethings stand in line in the regal Samode Palace in Jaipur, extremely mindful of their straightened/curled/carefully ruffled hair and makeup, as they size each other up.
All of them are either models, students or struggling actors, we are told with kickers that routinely flash on the television screen.
Soon, a nattily dressed Nikhil Chinapa, 41, enters the scene and the girls squeal, appreciating his dark looks and ripped body.
And thus kicks off the seventh season of MTV Splitsvilla (yes, hard as it may seem to believe, this show has been on air for seven seasons now).
The girls, all legs and midriffs and hints of bronzer-accentuated cleavages, are rounded up along the balcony railing as Chinapa looks up from the ground and greets them all with 'All you ladies look lovely,' (because who wouldn't, from that angle?).
The girls are on the show to find their true love -- as Chinapa reiterates relentlessly through the show -- and the boys file in thereafter – most of them are models, actors too, with two 'celebrities' thrown in the mix -- Ayaz Ahmed and Ashwini Koul are former Roadies, another MTV show that is well past its relevance -- while Mayank Gandhi and Rishabh Sinha have tasted moderate success with Hindi serials.
Between Sinha and Gandhi, who attract the maximum attention from the ladies, the former cockily laps it all up and proceeds to regale them with his account of what it's like to be a celebrity, or something to that effect.
The focus then quickly shifts to the star of the show -- Sunny Leone's entry as the show's new co-host.
The boys, who, so far, had looked bored and disinterested, suddenly come alive in Sunny's presence, and the girls hide their squirms with appreciative remarks about the actress.
Barely five minutes after that, the seven boys find themselves in a swimming pool with 13 girls -- there had been a secret task and said girls are in the danger zone.
What happens next will blow your mind.
Not really.
They just stand awkwardly in the water, unsure of what to do with their hands (drinks, maybe a beach ball to play with would have been nice, guys?)
End result? 'Humne bahot 'fun kiya,'' and 'He is one of those chocolatey boys (Really? Is he the scion of Melody candies manufacturers?),' are only two of the many examples of how succinctly the girls reflect on their pool dates.
But this is just the beginning.
Early on in the first episode, the girls lay claim to beds and rooms of their choice and tell the latecomers to back off in less than tactful ways.
The gloves will soon be off and the contestants will launch into nasty fights over who belongs to whom, wading through the giant cesspool of well-scripted insecurities and emotional minefields that is the show.
Fun fact: The only thing violated in this spectacle will be your intelligence should you decide to sit through it.

I suggest you watch it for the unintentional and occasionally exasperating hilarity it offers in generous doses.

Rediff Rating: