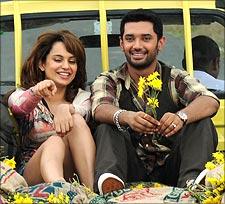 Ankur Pathak feels nothing works in Miley Na Miley Hum.

His mother wants him to be a big entrepreneur and get him married to the daughter of her friend who is a fashion designer. Papa wants him to be a tennis star and to tie the knot with the fiery daughter of his long-time Punjabi friend. Both are scandalised when their son (Chirag Paswan) declares that he already has a girlfriend.

"Tum kissise PYAAR karte ho?" asks mummy Poonam Dhillon, as if she can't believe her son is capable of such an emotion.
Dad (Kabir Bedi) is equally puzzled. The two are separated, constantly at loggerheads, and treat their son like he's a bit retarded and can't choose for himself.

The screenwriters of Miley Na Miley Hum have written a boringly cliched story of mother-father conflict that adversely affects their son whose professional and personal life is in a mess as a result. When they leave him on his own, he finds himself at a loss and cannot play to his potential in an important tennis match final. But it's at that crucial match that the warring parents magically unite.

The film is painfully reminiscent of the many bad films made in the 1990s. Director Tanveer Khan seems to be alienated from the prevailing pop culture and his treatment of the film is Bollywood 15 years ago. It ends up being neither a compelling family drama, nor an appealing romantic story rooted in traditional values.

Kangna Ranaut plays a struggling, somewhat hot-headed, model. To escape his parents' matrimonial ambitions for him, Chirag pretends a liaison with her over the course of 20-odd days, which the writers cover in a five-minute song.

For much of the film Ranaut looks annoyed -- which probably has more to do with her positioning in the film than the character she is portraying. She is made to mouth dialogues that are sometimes soft, often screechy, and almost never give her a definite personality. She ends up being more of an accidental catalyst than a genuine romantic insertion.

Debutant Chirag Paswan is a bad actor. His body language is awkward, and he delivers his lines like he is rehearsing in the dubbing studio. Adding to his misery is a constant flow of superfluous songs, which show up his inhibitions even more.

The screenplay evokes frequent, unintentional chuckles. Seasoned actors Dalip Tahil and Kabir Bedi do what is expected of them, but neither has a character he can do justice to. Sagarika Ghatke (Chak De! India), in a brief appearance, remains the only actress who plays her diminutive part credibly.

Miley Na Miley Hum is a film where nothing works, and nobody benefits (that is, if you don't count random product-placements). If you find lines like "Sushi is kacchi macchi" funny, or want to watch the noble game of tennis being massacred, this one's for you. And if you're turned on by unsympathetic characters creating conflict for no reason at all, watching Bigg Boss might be cheaper.

Rediff Rating: