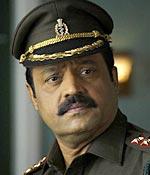 Paresh C Palicha reviews Malayalam film Melvilasom.
Post YOUR reviews here!
Directed by debutant Madhav Ramadasan, Melvilasom is exciting as it experiments with new ways of storytelling.
Shot in a room with hardly a dozen actors and a child making a special appearance, this film shows how dialogues can create mental images for a viewer and also propel the story forward.

It's not like what this film has achieved hasn't been attempted before. There's Sidney Lumet's classic 12 Angry Men (1957), where 12 jurors argue about the fate of a teenager who is accused of stabbing his own father to death. There's A Few Good Men (1992), starring Tom Cruise and Jack Nicholson, about the court martial of two US Marines deputed in Guantanamo Bay Naval Base for killing a fellow Mariner.

In Melvilasom, we see court martial proceedings against Sawar Ramachandran (Parthiban) who is accused of killing an officer and fatally injuring another while doing guard duty of his regiment. There are eyewitnesses (who have noted that the incident happened in a fit of rage but are clueless about what actually transpired before Ramachandran used his weapon) and even Ramachandran has pleaded guilty without being ready to disclose anything else.

In the beginning of the court martial, everyone is of the opinion that this is an open and shut case that will be resolved very soon. But Captain Vikas Roy (Suresh Gopi) who is appointed to defend Ramachandran has other plans, he intends to unravel the truth behind the incident. So he goes on to reconstructing the event and cross-examining the eye witnesses and others involved in the case to the displeasure of all including the presiding officer played by Thalaivasal Vijay.

There is virtually no technical gimmick or support to move the story except for the camera movements (handled by Anand Balakrishnan). So the onus of doing this falls on the script written by Soorya Krishnamoorthy (adapted from his own play of the same name, which has had quite a number of shows).
The only complain we can have from the film is the fact that it is loud and theatrical in some portions. But considering the fact that the film is devoid of any other technical support to assist the movement of the story, it can be ignored as a minor glitch.
The actors' performances give the film the requisite solidity. Parthiban as Ramachandran is silent during the most part of the film but registers as solid presence nonetheless and plays an iimportant part in the story.
Suresh Gopi's performance shines with his legendary dialogue delivery, peppers his lines with English and he gets his trademark punchline in the form of 'hunter of the soul' around half time. Thalaivasal Vijay, who acts as the presiding officer, has the next important role. Krishna Kumar as the villainous B D Kapoor goes overboard in parts.
Melvilasom
is the kind of film that leaves you happy for simply surpassing your expectations.
Rediff Rating
: