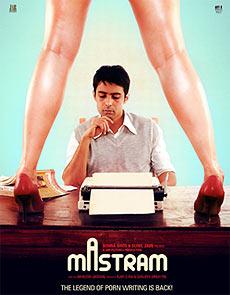 Director Akhilesh Jaiswal, who wrote Gangs of Wasseypur, seems unable to make up his mind as to how to firmly hold the narrative in his directorial debut Mastram, writes Prasanna Zore.
Set in Himachal Pradesh in the 1980s, Mastram revolves around the life of a novelist who craves for respect through his clean writing bereft of which he starts peddling porn to earn his living.
The film directed by Akhilesh Jaiswal is about the transformation of a simpleton who gives in to the pressure of being successful, overwhelmed by his own humiliation and the cruel market reality that, simply put, reads demand and supply.
The market demands 'masala', not Rajaram's Man Ki Vilochana, a moving story of a woman in love, which Rajaram, the author, has written painstakingly but doesn't match up to what the publisher wants.
The film then is about how Rajaram, a shy, reticent, married man, becomes Mastram -- an alias for the former -- the confident, business-minded writer and purveyor of porn.
To Mastram, writing pornographic scenes for his novellas comes as easily as writing the emotional scenes of Man Ki Vilochana to Rajaram.
Played by Rahul Bagga (of the Powder show on TV), the film just about delves into the circumstances that forces Rajaram to take an alias.
As Mastram's erotica tops bestsellers' lists, Rajaram's conscience shows no signs of discomfiture given his dream of establishing himself as a great literary writer.
There is no conflict between the clean and the not-so-clean. Both live in perfect harmony.
Where the film scores is in giving face and voice to those anonymous erotica/porn (take your pick) writers -- the film is a biographical sketch of a fictitious character Mastram -- whose services most teenaged boys have savoured when consumed with desire during an era when there was no Internet.
The 98-minute film moves at a languid pace for the first 30 minutes.
Then Rajaram becomes Mastram and brings in the much-needed sexual energy into the proceedings, which sadly is the only selling point of the film.
Bagga, as both Rajaram and Mastram, is a mixed bag of emotions.
In some scenes he succeeds in bringing about the nuances of a novelist who writes porn to earn money. In others, he looks lost and unconvincing.
Director Jaiswal, who wrote Gangs of Wasseypur, seems unable to make up his mind as to how to firmly hold the narrative.
The result then is a film that fails to make you feel good.
Rediff Rating: