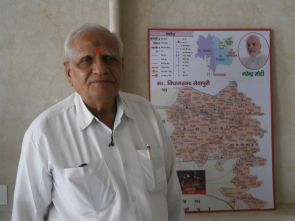 A Ganesh Nadar/Rediff.com checks out the steady stream of leaders and party workers flowing in and out of the BJP campaign headquarters in Varanasi, including the candidate's elder brother.
The Bharatiya Janata Party campaign headquarters in Varanasi is packed and overflowing.
A party worker tells me if I am feeling hungry I can collect a token and eat at the BJP mess located a few minutes away. "They look after everyone very well here, lots of people have come from outside."
Rajinder Singh, who everyone calls Rajan, is very busy. A man from Gujarat is explaining to him that he has brought an artist who can sing songs praising Narendra Modi and he could tour the entire constituency singing songs. "What do you want from me?" Rajan asks curtly.
"I want a tempo with a sound system." "Give me your mobile number, you there come here, give saab a tempo," Rajan directs one of the volunteers.
The next man wants caps and pamphlets. "Take as many caps as you want, but the pamphlets are being printed, you will have to wait," says Rajan. "After this, I don't want to see you here. Please stay on the street corner allotted to you."
Vijay Goel, the BJP leader from Delhi, walks in and everyone stands up. "Why are so many people here?" hollers Goel, who headed the BJP unit in Delhi before he made way for Dr Harsh Vardhan before last year's assembly election.
"Rajan, what are you doing? Aren't you supposed to give them work?"
"I am giving everyone work, but they just hang around," says Rajan calmly. "See these five people, ask them what I told them to do," pointing to a quintet who immediately make themselves scarce.
"Everyone is sitting in the city, don't you all know that there are two rural constituencies," says Goel, who served as a minister in the Atal Bihari Vajpayee government. "I am going to the villages and will stay there till May 10. Those who don't have work here come with me."
The hall empties in a hurry.
All the people seated at the head table apart from Rajan Singh are young Gujaratis.
In walks an elderly man and everyone stands up again. This is Sombhai Modi, the candidate's elder brother.
A retired government employee in his native Gujarat, the elder Modi now runs an old age home in Vadodara. He gets into an animated discussion with Rajan while the rest keep a respectful distance.
An MP from Madhya Pradesh, also in the fray this election, walks in. Goel asks how his election went. "Kaske lada (I fought strongly)," says the MP.
A young Gujarati boy tells me that Manoj Tiwari has arrived and asks if I want to cover the Bhojpuri movie star's road show. My driver Jaswant is upset. "The road show is 200 km away and the second one is 400 km away. The star is travelling in a helicopter, we cannot reach there on time. Why are they telling you to go there?"
Image: Sombhai Modi, Narendra Modi's elder brother at the BJP campaign headquarters in Varanasi. Photograph: A Ganesh Nadar/Rediff.com