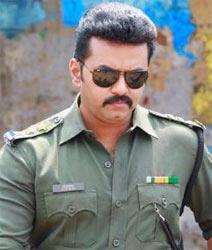 Masala Republic is one of the tackiest films made in recent times, says Paresh C Palicha.
Directed by debutant director Visakh G S, Masala Republic is a satirical entertainer on the ban of pan masala and how it affects the Migrant labourers in Kerala.

From tending the garden to waiting tables in restaurants to working at construction sites and sawmills the migrant labourers do everything, but they are marginalised and are voiceless politically.
Although the plot sounded as the backdrop for an explosive film, the director comes out all muddled as he tries to make it funny.
Indrajith is in the lead as a cop in charge of the Anti Gutkha Squad. In the film gutkha, chewing tobacco or paan masala are shown to be the lifeblood of migrant workers and a ban on these products directly affects their productivity.
The film also touches on other issues concerning these workers, like the sky rocketing prices of onions and some small-time politicians trying to organise them and create a vote bank and an unscrupulous contractor fleecing them. But, they are all relegated to the background and the ban on paan masala take centre stage.
At first, it looks like the film may be a spoof on police films with the policeman as superhero with paranormal intuitive abilities. And a soft corner for a female journalist, in this case Shreya (Aparna Nair).
But many other elements are thrown in, like the growth of black marketing and how gullible youngsters take to a life of crime expecting to make a fast buck.
There is even a Chinese angle in the import of 'Made in China' noodles, which is the staple diet of the migrant workers.
Technically, the film shows an utter disregard for production values.
Indrajith, who plays Shambhu tries to be a tough cop in the Suresh Gopi mould one moment and the next moment, he is in the Salim Kumar mould uttering lines like "Shambhu is very dangerous".
P Balachandran plays the politician rather badly. Youngsters Vinay Fort and Shine Tom Chacko have poorly delineated characters.
Masala Republic is one of the tackiest films made in recent times.
Rediff Rating: