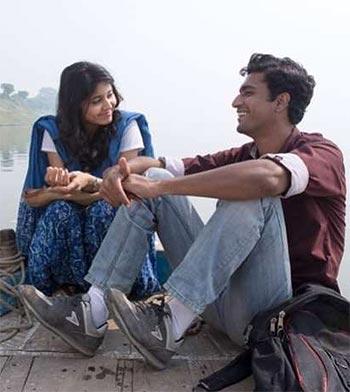 Masaan is an immense achievement for a first-time filmmaker and must be applauded, says Raja Sen.

(Full disclosure: Masaan is produced by Drishyam Films and they are the people producing Raja Sen's directorial debut, X, as well.)

It's devastatingly hard to crush a skull.

For all its lifelong fragility, the human skull is a significantly tough nut, which is why crematoriums have assistants on call to shove a stick into a pyre and ram it through what once was head, breaking it down so the flames licking at it can consume it quicker.

As a child, I thought this skull-crushing was the reason these people are called Domes.

They aren't, even if it sounds like they are.

Doms -- or Masaanis, as they're frequently referred to in North India, the ones who man the Masaans, the crematoriums -- are a brutally marginalised people, one the rest of our frequently filthy yet eternally queasy nation considers too filthy to touch.
It is here that Neeraj Ghaywan's directorial debut Masaan blurs the lines, and in striking relatable fashion: does untouchability even matter on the other end of a Facebook friend request?
This is a fine little film about morality and loss and loneliness and Banaras and… well, and a balloon.

At the heart of this film, buoyant like that freshly released scarlet balloon, is a young romance between a girl who likes poetry and a guy who fancies her madly enough to admit he hasn't heard of any of the poets she mentions.

She knows this, of course, she knows only too well that he wouldn't have heard, say, of Nida Fazli, but she's playing him because she likes hearing him confess inadequacy.

He is smitten by her uproarious ways -- screenwriter Varun Grover uses the nearly too-quaint word utpaat -- and tells her, conjuring up every bit of male bravado, that he's there for her and that she should come to him were anyone to make her cry.

"But what if you make me cry?," she asks, smiling, and he can't help but smile back and, gratefully, drop his 'macho' guard.

"Well, even in that case, you better tell me."
The fact that he is a Dom doesn't faze her, though she's aware of parental intolerance hitting flagpole highs in the cowbelt.

But, in keeping with this film's serene life-goes-on philosophy, she's happy to flow along.

She suggests they run away from their homes and build some kind of a life together.

"Anyway I've heard everything gets sorted out after some time."
This story -- enacted by debutants Vicky Kaushal and Shweta Tripathy -- is a thing of beauty, something so pure and uncluttered that I could gaze at it for much longer than the film lets us, even though tinting this modern love with 90s nostalgia might be overkill.

We've seen a lot of this awkward small-town mooning before, but this is a romance with heart, stakes and even, sadly, stakes through hearts.

Kaushal is sincere, understated and has eyes brimming with yearning, and Tripathy is effervescent enough to change the film's intentionally murky tone merely with her eyes.

She's the best thing in Masaan.
So good, in fact, is this romance that everything else in Masaan seems almost superfluous.

There is a bitter yarn of blackmail, of policing moral and immoral, and while handled with much believability, this is an invariably hoary track.

Sanjay Mishra is wonderful as an old translator who sits on the Benaras ghats while Richa Chadha, playing his conflicted daughter, goes through the motions too blankly.

An internalised performance is one thing, but here Chadha, a usually fine actress, builds her character inconsistently and has trouble 'acting' when the performance demands it most.

In one confrontation with Mishra asking what she's blaming him for, she spits back the words "Ma ka" ("for Mother") almost before he says it; in a film this given to naturalism, her performance jars.
Perhaps that is why Masaan could ideally have been less committed to naturalism than it is to the poetry it aspires to.

Avinash Arun, who directed the astonishing Killa recently, is the cinematographer and his work here is marvellously fluid, lapping by the water and diving under and above the obvious, his lens barely glancing at words typed on-screen and thus keeping us, the viewer, either alert or wistful.

Yet for all its beautiful cinematography, the imagery in Masaan ends up soothing and never scorching, which feels like a bit of a letdown given the stunning potential on display.

This is a lovely, lyrical film (with a great soundtrack by Indian Ocean) but I wish the song could have said more than que sera sera.
The trap of telling a greater story using interlinked, dovetailing plotlines is a sticky one, and while Ghaywan acquits himself well, there is some irregularity that yanks the film down, especially when the varied threads of story are being glued together, which smells too convenient.

Yet this film is an immense achievement for a first-time filmmaker, and must be applauded.
At one point, a railway employee, played by Pankaj Tripathi, uses a line -- about a station where more trains stop than start, a Hotel California-esque line on how it's easy to get there but hard to leave -- to try and impress a woman.

Earlier in the film, Kaushal shyly, falteringly comes up with a line about how he loves his girl because she's the youngest in her house, riffing off something she said, and we can see the grin run through his body as he feels the thrill of her succumbing to his line.

These are the unforgettable bits.

The lines work, Ghaywan.

Forget life, death, blackmail, Benaras and corpses; balloon is all you need.
Rediff Rating: