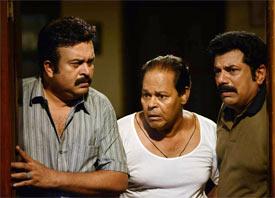 Malayalam film Mannar Mathai Speaking 2 is not a patch on the previous two films, writes Paresh C Palicha.

Some films make you wonder why they were even made. Mannar Mathai Speaking 2, the third installment of the Ramji Rao Speaking franchise directed by Mamas, is one such film.

As we know, the original got a cult following and is shown on the small screen every week.

The third film simply repeats what we've seen before, without adding anything substantially new.

When the titles start rolling, we get to see the story of the first two films in a caricature form. When the actual film begins, we are time and again reminded of the past situations that have made us laugh for all these years.

Yet, the director makes a change as if to prove that this film is different.

Here, Mannar Mathai (Innocent) has transformed his Urvashi Theatres into Urvashi Tours and Travels. His two stooges Gopalakrishnan (Mukesh) and Balakrishnan (Saikumar) are still with him.

Mannar Mathai wishes to revive his theatre group for the old times' sake but Gopalakrishnan and Balakrishnan are opposed to that idea. Mathai decides to go ahead with it anyway.
There is hardly anything more to the story, except for the entry of some new characters -- Shammi Thilakan comes in as the new driver and Aparna Gopinath is the leading lady.
The villains of the first two parts return -- Ramji Rao and Mahendra Varma, played by Biju Menon (his character has been given a comic slant as his popularity demands in the current scenario). The kidnapping and abduction situations make a comeback and end up in a free for all climax with an open ending that keep the option for the fourth installment open.
The three main actors -- Innocent, Mukesh and Saikumar -- try their best to look and feel excited reprising their characters, but in all honesty, they look jaded.
Shammi Thilakan tries to add to the fun (as comedy is something that he is trying to add to his repertoire in the recent times) by being a dumb driver and he succeeds in it a bit. The rest of the cast does not reach that point.
Mannar Mathai Speaking 2 is not a patch on the previous two films.
1 1/2 Stars