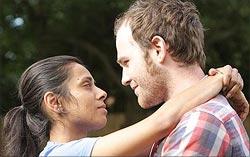 Land Gold Women is not a film for feeble-minded ot those looking for Bollywood style 'happy endings, writes Preeti Arora.


The literal translation of
Zan Zar Zameen
is merely women gold and land. But the emotional connotations of this phrase are many. These are priceless possessions for any man. In today's times is a woman an entity in her own right? Or is she just an 'item' which can be disposed of depending on her man's disposition and his religion?
According to debut director Avantika Hari, things haven't really changed for women. And men still prefer to kill the object of their affections if they raise questions about ethics and morality. After
Khuda Ke Liye
in 2008, here is one more film about Islamic fundamentalists and the staunch ferocity with which they claim to protect their women.
A word of caution; many films on the same theme (
Khuda Ke Liye
included) despite the grim moments leave the viewer with the fragile hope about the gradual manner in which women have begun to take control of their own lives.
Land Gold Women
doesn't provide you any hope. Beginning on a note of despair, there is no respite whatsoever. Not a film for the feeble-minded or those looking for Bollywood style 'happy endings'.
Nazir Ali Khan (Narinder Samra) is a quiet unassuming professor of history living in UK. Having reached a stage in life where not too many unexpected things are likely to happen, Nazir is proud of his daughter Saira (Neelam Parmar), a high school student who hopes to enter Cambridge. Creating the impression of being a liberal, Nazir dithers between allowing his daughter to enter a reputed university, or finding a suitable groom to whom she can be married off. Preferably in India. A fervent hope for most NRIs, not just the fanatics.
Life in the Khan household which includes the head-covered docile wife Rizwana (Renu Brindle) and the bordering on adolescence brother Asif (Ali Zahoor) progresses smoothly till Nazir's older brother Riyaaz lands up on a visit. Riyaaz plays on his brother's emotions and convinces him about returning home at the earliest, before the corrupt values of the 'whites' destroy both his daughter's
morality and the reputation of the extended family.
In this scenario the 17-year old Saira, who loves both her parents tries hard to convince them about her hesitations in adapting to a lifestyle at odds with the manner in which she has been raised so far. Her mother who so far had made tentative approaches to her father retreats into a shell. In all probability, she realizes the stupidity of raising any opposition towards the male members of the clan.
Fathers often try to have an inappropriate groom bumped off even if the daughter's life gets endangered. One has seen it in
Honeymoon Travels Private Limited
and
Love Sex Aur Dhoka
. But in today's times how many of them would consider murdering their daughter in cold blood?
Nazir, the father and the protagonist, delivers an excellent performance where his smooth voice and mild mannerisms effectively conceal his innate brutality. He writes poems, marveling the birth of his daughter but the glib couplets only emphasize his need to hold on to Saira. Saira as the daughter looks much older than her depicted age but her spontaneity makes up for it. Riyaaz as the older brother is a complete miscast, though he has just arrived from India he speaks English and Hindi with a 'Brit' accent. Very jarring to the ears.
Shot entirely in Birmingham, the camera remains static right through the film. It could be a conscious choice for the director or the result of budgetary constraints. Tight close-ups give the actors ample scope to perform though it does slow down the pace of the film.
The serious flaw in the film is the script. Passionate about getting the message across, the film comes across as a dissertation on honor killings. Also, lawyers are professionals engaged to defend the guilty party, one doesn't take up a case and then get moralistic about the clients intentions.
Despite these limitations,
Land Gold Women
is a film made with noble intentions and the courage to expose people who twist religion in order to satisfy their petty morality. The director hopes to show you something you didn't realize was so commonplace even today. And for that reason alone, give this film a chance.
Rediff Rating: